WOODWORK UPDATE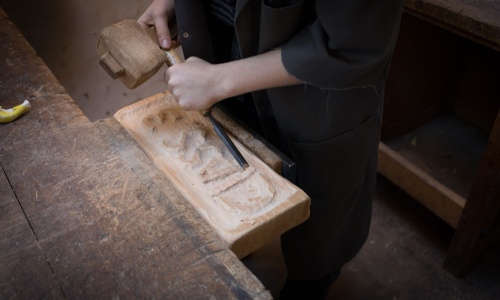 What a start back we've had here, with an Indian summer giving so much joy and warmth and the students arriving with their own vibrant willingness and sunshine.
Here in the little woodwork studio we have started off with leaps and bounds. This year, I have the pleasure of welcoming Class IV into weekly woodwork and clay sessions as well as seeing the capable Class VIII take the reins at the top of the school.
In the original Waldorf craft curriculum, students learn according to their development, not only the techniques and methods of whittling to green woodworking, kinetics to utilitarian objects but also how to make the tools themselves. It was noted almost 100 years ago that the ideal position for a student leaving the Waldorf curriculum is to have a bag they have made with tools and objects to enable them to fix, mend and make necessary objects that they take with them into adult hood.
Each year I work towards not only developing the sense of individual satisfaction of molding material but work closely with building peer to peer learning as well as one project per class being a gift to the community. Whether this is in the form of classroom carvings for each class or making utensils to sell at the school fair. I truly believe that in a society that is driven by consumerism - to be able to take a material and work it into something useable not only gives the students a sense of accomplishment but they are able to recognise the value of things in new ways and the need for more qualitative, regenerative and sustainable living.
When children begin woodwork in Class IV we see replicated in their main-lessons the Norse myth stories of Thor with his hammer or in the Nibelung Saga where Mimir forges the sword. The children begin to utilise more specific hand eye coordination, finding a new resistance in material in which to exercise their will and focus.
By Class V students are adept at basic green woodworking making spoons, ladles, coat hooks and other interesting objects from natural wood. Looking at the form of branches and how we can discover the form of boats and utensils within.
Class VI often begin the year blacksmithing literally bending metal and their wrist bones and muscles can handles much harder tasks while their continuing to develop the nerves in the finger tips and honing more and more detail in their work. Noticing how to use tools so that the grain doesn't split in the wrong way and learning to sharpen and fix tools can begin as their awareness fills in their own questions.
Class VII brings a new element to woodwork. Joinery is introduced as is personal customisations. The students now have the skills, patience and pleasure in taking time to add little details - such as delicate relief carving. It is here that moveable toys are introduced alongside simple mechanics.
It is in Class VIII that carpentry, joinery and more sophisticated mechanics are introduced. This year the Class VIII are beginning the year redesigning the teachers' kitchen using a myriad of carpentry techniques including foldable benches and draws.
This year has seen a big shift in global priorities but here in woodwork I feel there is a renewed sense of centering for what is important and how we relate to our environments. I am constantly looking for inspiration from a variety of ecological and sustainable fields as well as reaching out to the local councils and communities in using recycled material. I am also wishing to introduce a much more diverse project curriculum like traditional Batique (making the tools from wood to the waxing resistant dying methods from Java, Indonesia) to African Bolga basket weaving.
This year I am on the hunt for good wood. If any of you reading this have access to trees that are going to be felled, or have family, friends or neighbours doing fresh pruning or garden work we as a school are investing in making new natural playgrounds for the lower classes and kindergarten and I am looking for anything 2x2inch branches and up!
If you have anything going please email schoolofice@stpaulssteinerschool.org and put Wood Offered for Craft in the subject line.
And finally, if you have carpentry skills to offer, I would be delighted to hear from you.
I am very excited with the new cooler temperatures to get the heat moving and the creative nerves firing- I am really looking forward to hearing from you soon!
Warm regards
Nicole Caodie.
Woodwork / Craft Teacher