A day in the life of apple tree kindergarten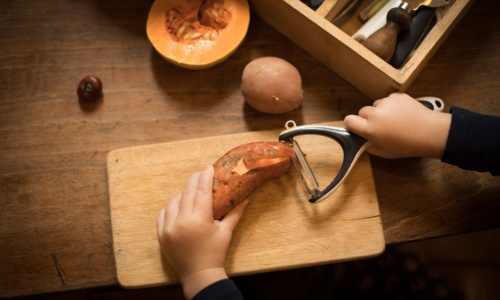 An update from Sarah Newby, Apple Tree Kindergarten Teacher.
Apple Tree Kindergarten is in one of the smallest classrooms in the school and although it is such a beautiful classroom, we are delighted that, due to the Covid situation and the need to be in bubbles, we have been given the opportunity to begin our mornings outside.

We welcome the children in our outdoor classroom where they partake in simple outdoor crafts while we wait for everyone to arrive. (So far we have sanded and oiled wood to make necklaces, wet –felted little acorns to put into real acorn cups for decorations and now we are making little wooden gnomes with a sewn felt hat.) Then we sing our morning verse before the sun children help roll up the canvas sides of our outdoor classroom and everyone goes off to work and play.
'Good morning dear earth, good morning dear sun
Good morning dear stones and flowers every one,
Good morning dear beasties and birds in the trees,
Good morning to you and good morning to me.'

The children are then free to explore the garden, to run, jump, splash in puddles, push trolleys around collecting items or taking a friend for a ride. Insect friends are sought and cared for and sometimes a little resting place made for a dead worm or beetle, carefully decorated with leaves or flower petals. We are out in the elements and our parents kindly dress the children to arrive in their waterproofs. New water taps in our part of the garden have allowed wonderful water play and the care involved in cleaning our muddy equipment ready to put away in the shed at the end of outdoor playtime, all clean for our Chestnut neighbours when they come outside in the second part of the morning. The shed is full of buckets, spades, trowels, cooking pots and utensils for the ever-popular mud kitchen, where delicious ice creams, pies, cakes, apple crumbles etc are made. There are hula hoops and skipping ropes, large and small wooden blocks and planks so that the children can build constructions; boats, planes, machines, even a home-made swing or a see-saw. The children's movement opportunities are extended by outdoor balance equipment; balance boards and pedal racers, by climbing in the climbing house, crouching down to get into the little hobbit house. Older children learn to skip over the rope and the younger ones practise running under it or jumping over the 'wriggly worm' on the ground. There is an area of logs to play stepping stones, or perhaps to make a little outdoor puppet show on. Woodlice, centipedes and beetles have been found beneath them, much to the children's delight. There is gardening to be done and we have begun by planting bulbs at Michaelmas.

Fine motor skills are exercised by a fairy house corner where tiny twigs, leaves and stones can be collected to keep the fairies' garden looking beautiful. Nature art can be created: Autumn's gifts have included conkers, conker husks and fiery leaves to make a Michaelmas dragon picture on the earth. Berries, conkers and leaves have been threaded onto string by little fingers to make seasonal decorations for our outdoor classroom. A large outdoor blackboard allows the children to draw outside and to practice mark making on a larger space; great for the littler ones who are sometimes not ready to contain their mark making to the size of a piece of A4. Children practice making knots with the ropes, to tie the skipping rope to the gate or to make a tightrope to balance along. Outdoor craft work includes woodworking; sawing, filing and sanding. We fingerknit string, eg. to make rope to hang up our rakes.

We have enjoyed our first proper rainy day and much joy was had splashing in the plentiful puddles and exploring the watery element. There were many wet clothes that day. As the days grow colder we will be needing warmer clothes; woolly underwear, socks and hats and probably warmer waterproof boots and raingear. Our movement also keeps us warm and we have a warm pot of tea available each morning.

Ringtime outside is a new adventure for us. The seasonal rhymes, songs and verses are brought alive when our movements and words directly connect us with our surroundings; eg. singing about conkers or falling leaves. Being outdoors affords us more space to move in.

After we tidy up the garden, hang up our waterproofs and put on our slippers, we come inside to the cosy room with its inviting cooking smells and a beautifully set table with a seasonal decoration in the centre; at the moment Autumn leaves and a little gnome. This, along with our seasonal nature table and the decorations on our mobile, is another opportunity to connect with the changing seasons, this time indoors. We light a candle and sing our blessing:
'Earth who gives to us our food
Sun who makes it ripe and good
Dear earth, dear sun
Our loving thanks to you we give.
Blessings on the meal.'

After enjoying and saying thank you for the meal, which has been lovingly cooked by Very, the sun children help the teachers wash-up, clear away the tables and sweep the floor. Younger children may help too as we all move into indoor work and play. Vegetables are chopped, bread is baked and butter churned. The children can immerse themselves in colour on wet-on-wet painting day, hands get busy making indoor crafts and on cleaning and mending day there is always lots of work to be done. What wonderful working hands we have! Children are busy playing; making houses, dens, building machines, pulleys, chutes, making puppet shows, caring for babies and our two (woollen) kittens. There are dressing up clothes to wear and books to 'read.' Beautiful drawings are made and sometimes turned into paper aeroplanes, boats or hats.

The tidy gnome tells us that, 'All around the room, all around the room, it's time to tidy away, all around the room, all around the room, it's time to end our play, it's time to put the babies to bed, it's time to sweep the floor where we tread.' The foundation for later maths has great opportunities for development here, eg. sorting shapes into the correct baskets, putting the baskets in their correct place, counting items in baskets to make sure we have them all, folding cloths into halves and quarters.

Storytime ends the morning as we sit in a circle, light a candle, sing a song and hear the glockenspiel played to enter into the magical realm of story. It is a moment of outward rest as we sit on our chairs, while in our inner world imaginations are active and nourished. On the days we have puppet shows children are mesmerised by the scene and the movement of the puppets.

Sarah Newby, Apple Tree Kindergarten Teacher.