African Drumming Workshop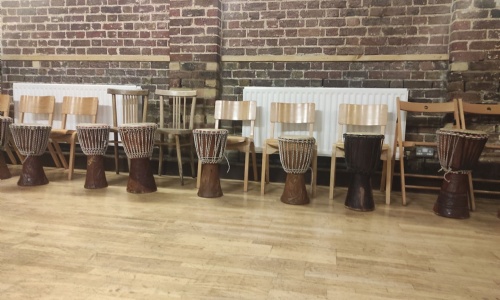 On 15th Ocotber, as part of our Black History Month celebrations, Classes III - VIII had an African Drumming Workshop. The Workshop was led by Seneke Sillah who is Mbilla Arts' lead musician and was a founding director. Seneke was born in The Gambia in West Africa and from an early age demonstrated a talent for playing mbalax, the traditional music of the Wolof people of The Gambia and Senegal, which is played on sabar drums.
The workshop consisted of learning 3 different tones on the djembe drum depending on the technique used to hit it. By the end, the children has learnt about the drum, it's history and could play some basic tunes. See below some samples of the music played and enjoyed by Classes III & IV, V & VI and VII & VIII. You will also find a sample of the performance at the end in which Classes I to VIII were able to join in! A few children were selected from each group to play the drum and some to dance. They were taught to dance by Seneke and of course, some of the staff had to join in the fun!