Advent Spiral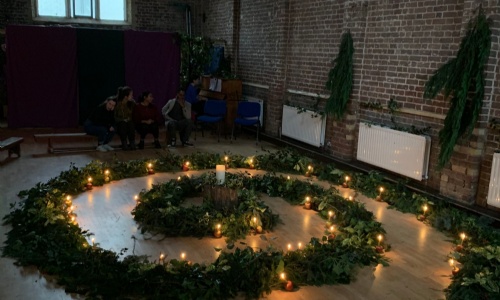 St Paul's celebrated the Advent Spiral on Friday 27th November 2020.
Advent (from the Latin 'to come') is the period of preparation and expectation starting four Sundays before Christmas. The start of Advent in Steiner Schools is marked by the Advent Spiral. Winter festivals of light are common around the world. As the days get shorter we move through a time of darkness towards the longest night at the winter solstice, and when Christmas arrives, a turning point is reached, the light increases, days grow longer and nature reawakens. The advent spiral reflects winter's dark growing to a close and the renewed promise that spring light and life will begin again.
The spiral this year was held in the hall which was dark and filled with a mood of wonder and quiet anticipation. On the Thursday prior, the Staff laid out a large spiral path of greenery and in the center of the spiral there is a large candle that has been lit.
On the day of the spiral, each child in turn, holding a red apple with a small unlit candle inserted into it, slowly walks along the spiral path and lights the candle from the center light. On the return each child places their candle carefully down along the edges of the spiral path, choosing their own place, lighting the way for the other children. When all the children have had a turn, the garden path is aglow from all the smaller lights. Some gentle tune might be playing helping to create a special mood. This is a wonderful opportunity to see the gifts and light each child brings and carries carefully out into the world.