This year's Class VIII undertook their moment of going through the Class Eight project motions. The journey for all was a woven array of emotions and then throwing COVID-19 into the mix made for a tumultuous but exhilarating experience. On many levels, nothing was certain except one thing – the students were going to present what they had been living and breathing for the last 11 months! After delaying the deadlines in accordance with the government regulations, Class VIII did it! They managed to present their hard work and were triumphant in doing so! Below is a snapshot of some incredible project books and practicals accompanied by a few words from the students about their experience.
Ms Achala Wickramaratne
As always, a very proud Class VIII teacher
Atreyu - Project: Kitesurfing
"This year's Class VIII was lucky in my opinion because the deadlines were always extended but then again COVID interfered with everyone's projects making this one of the worst years to do a Class VIII project. There were several times during my project when I became angry or frustrated because of work, but I always managed to get back on track to complete my work. At the very beginning I thought the Class VIII projects were the craziest most demanding and difficult projects I had done, and of course they were difficult, but I don't think they were as difficult as I thought at the beginning. My favourite part of my project was when I went to Brighton for my first day and the hardest part of my project was definitely completing everything for the deadlines and learning how to structure my time. If I could go back in time I don't think I would change anything about my project as this was a really enjoyable experience overall. I would love to learn to kitesurf if the opportunity were to occur in the future."
Hayal - Project: Box Art
"During my Class VIII project I learnt a lot. At first, I chose a topic knew nothing about. Then making a box art piece as a practical was the most challenging part of my project. There were many obstacles, which I can gladly say I overcame! I'm happy with the work I have done, and it was overall an enjoyable experience. I will definitely continue creating art pieces in the future."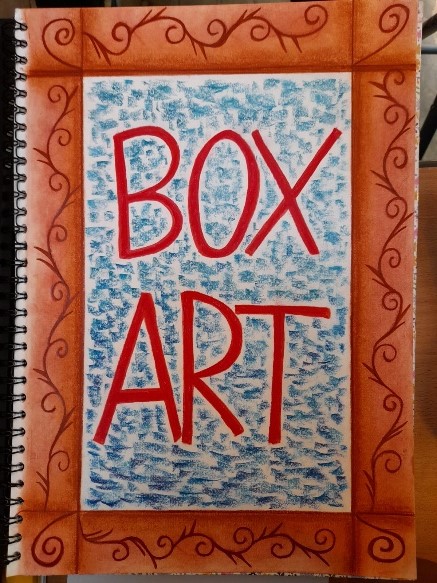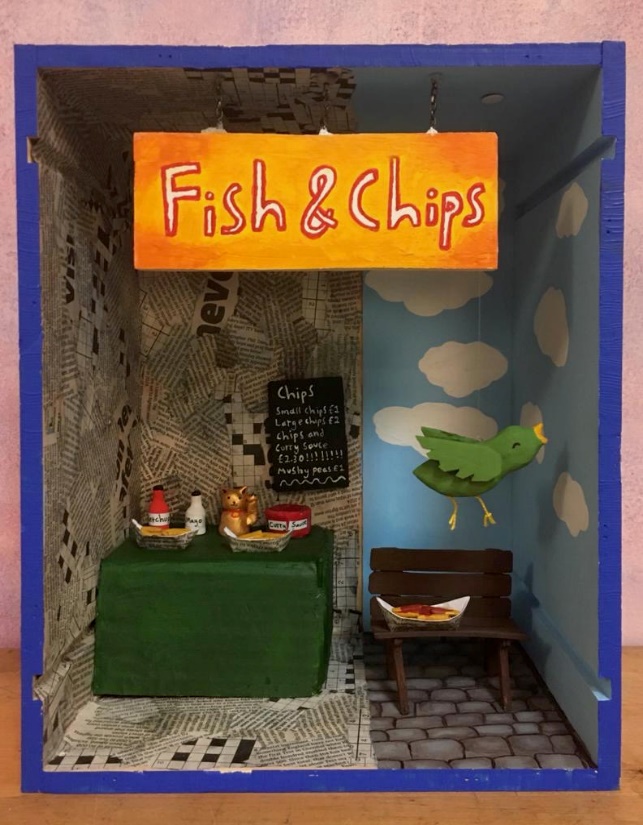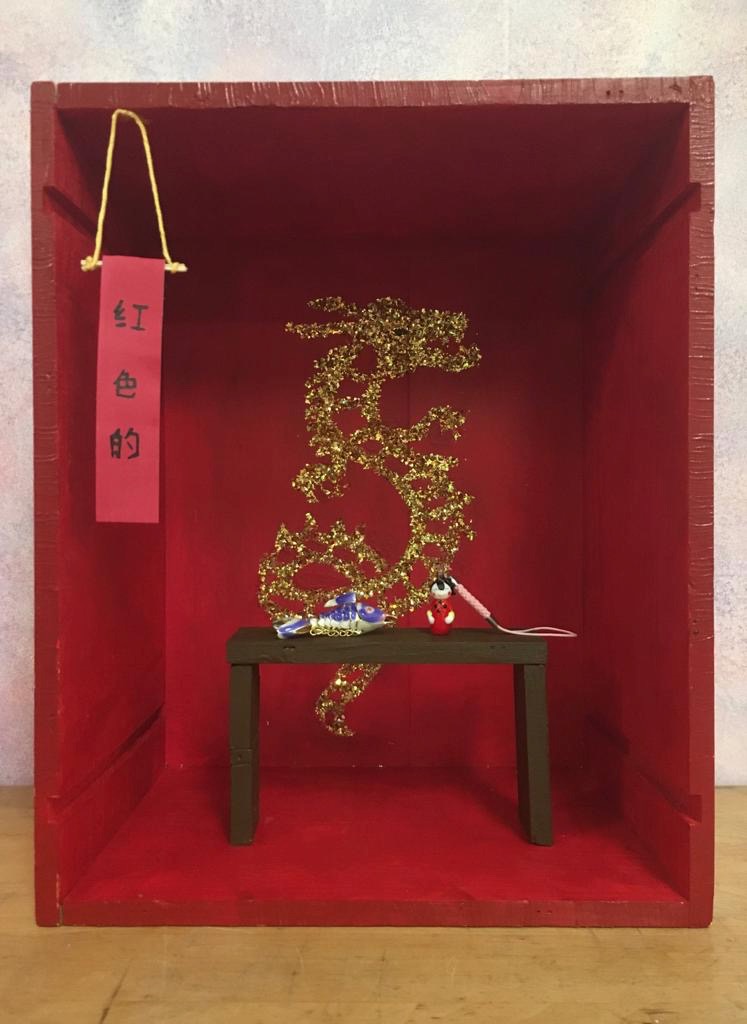 Apollo - Project: Veganism
Starting my project on veganism was what I found the hardest. It took a lot of effort to get going and deciding on my chapters.
My biggest highs and lows were during the 28 days following a vegan diet – missing foods I usually eat like chicken, egg pasta and burgers.
Vegan food made me reflect on some of the junk food I usually ate and realised after week two that I could feel fuller on a vegan diet. For example, if I have a McDonald's burger as a treat, I needed to eat more food pretty soon after because I was still hungry!
I began to enjoy learning new things about the food I ate; I was not aware that most of the pasta I ate is made with eggs. Even my parents enjoyed learning new things and drinking vegan red wine, feeling satisfied that they were benefitting their bodies, while indulging in their weekend treat.
As a family we were surprised at how many vegan products we used all the time – coffee, beans, vegetables, fruit, oils, rice, rice cakes that I have for daily snacks and sandwiches - baked beans, oat drinks, Alpro milk and yoghurt, soups, olives, hummus and my favourite… tomato ketchup! My dislikes were any Quorn products, the veggie sausages were awful! So were ladies' fingers (okra), I made the mistake and said in my Q&A after the presentation that I disliked asparagus, not too keen about that but the biggy was Okra, the slime is disgusting in my mouth!
My parents are purchasing more recycled sustainable products – clothing.
This was a memorable experience and was pleased to get through my speech!"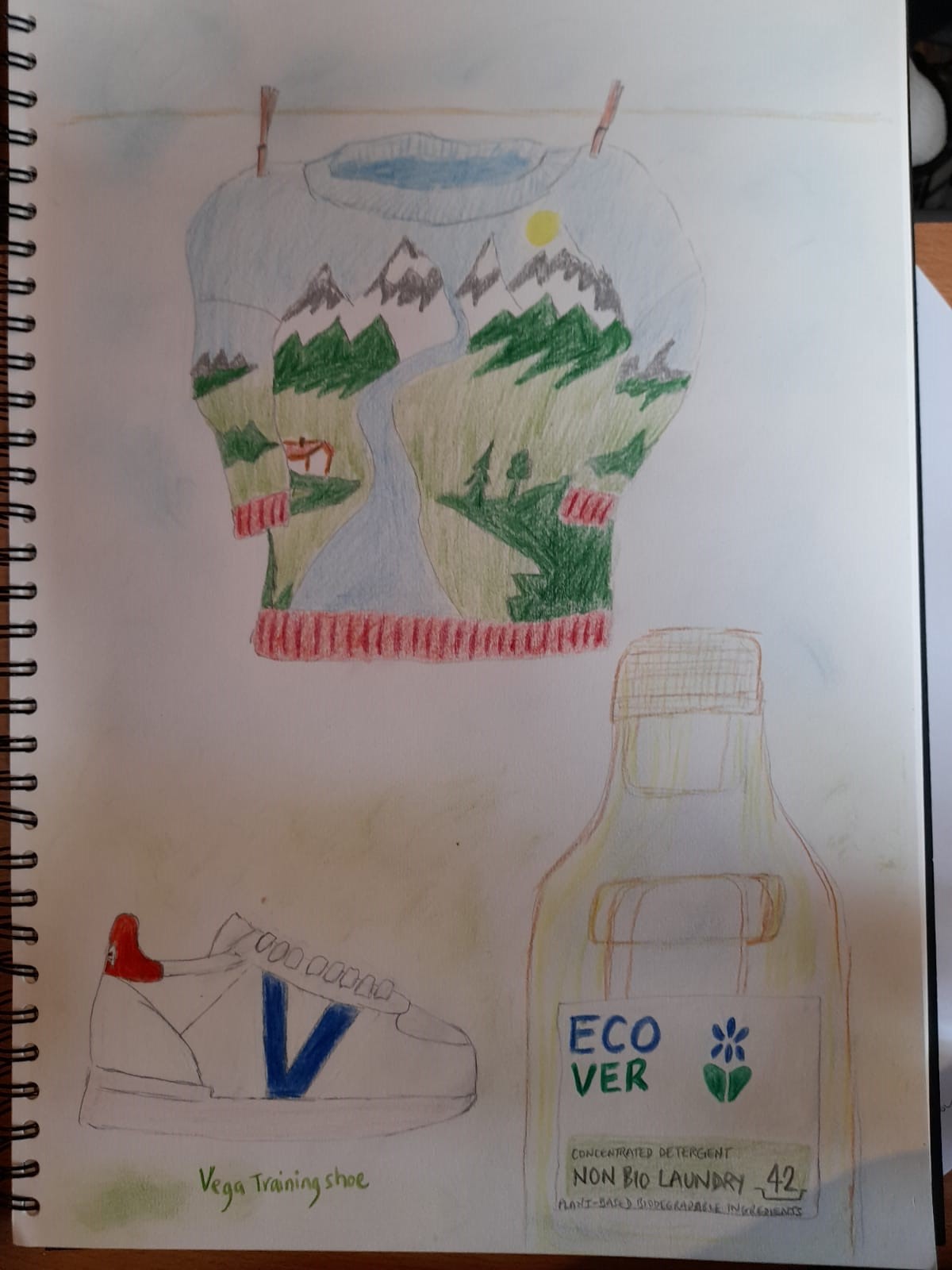 Stanley - Project: Comedy
"Before class eight, I was so excited to dive into the project and try to get everything done early, but when I started the year in September, I thought that the deadlines were so far off that I didn't need to worry about it and I could relax. But sure enough, time flew by, and I had to close the gap between me and the deadlines. Fortunately, I managed to stay on top of this project and although it was stressful, the work aspect was not too strenuous. I previously thought that my writing and overall project was acceptable and nothing more, but once I returned to school I started to appreciate the massive amount of effort and dedication that I put towards my topic. My favourite part of my project was definitely the presentation and as I attempted to add jokes to make it funny, I was extremely nervous to perform it. But as soon as I did my opening joke, I was on such a high when I received laughter and praise from the audience."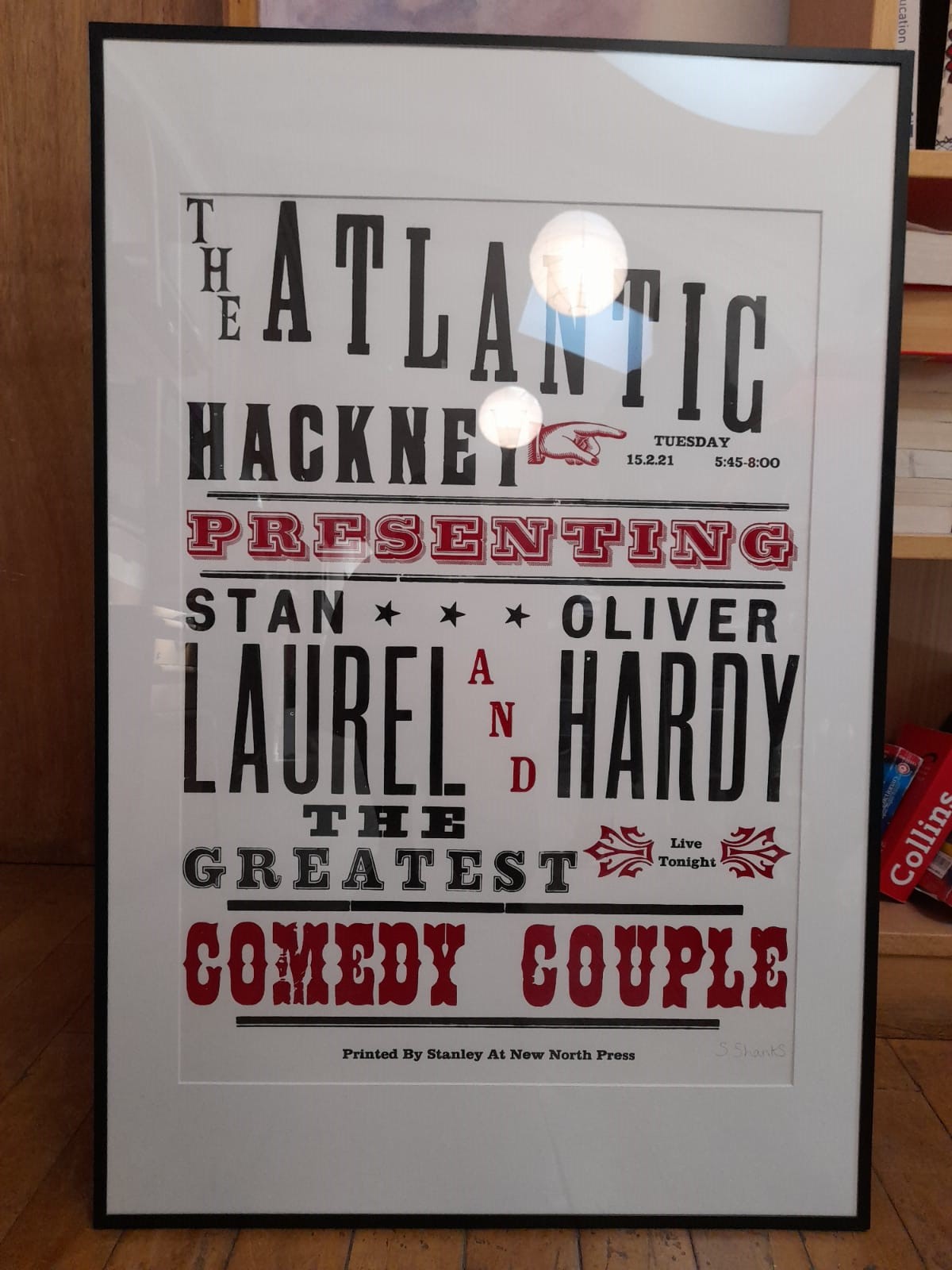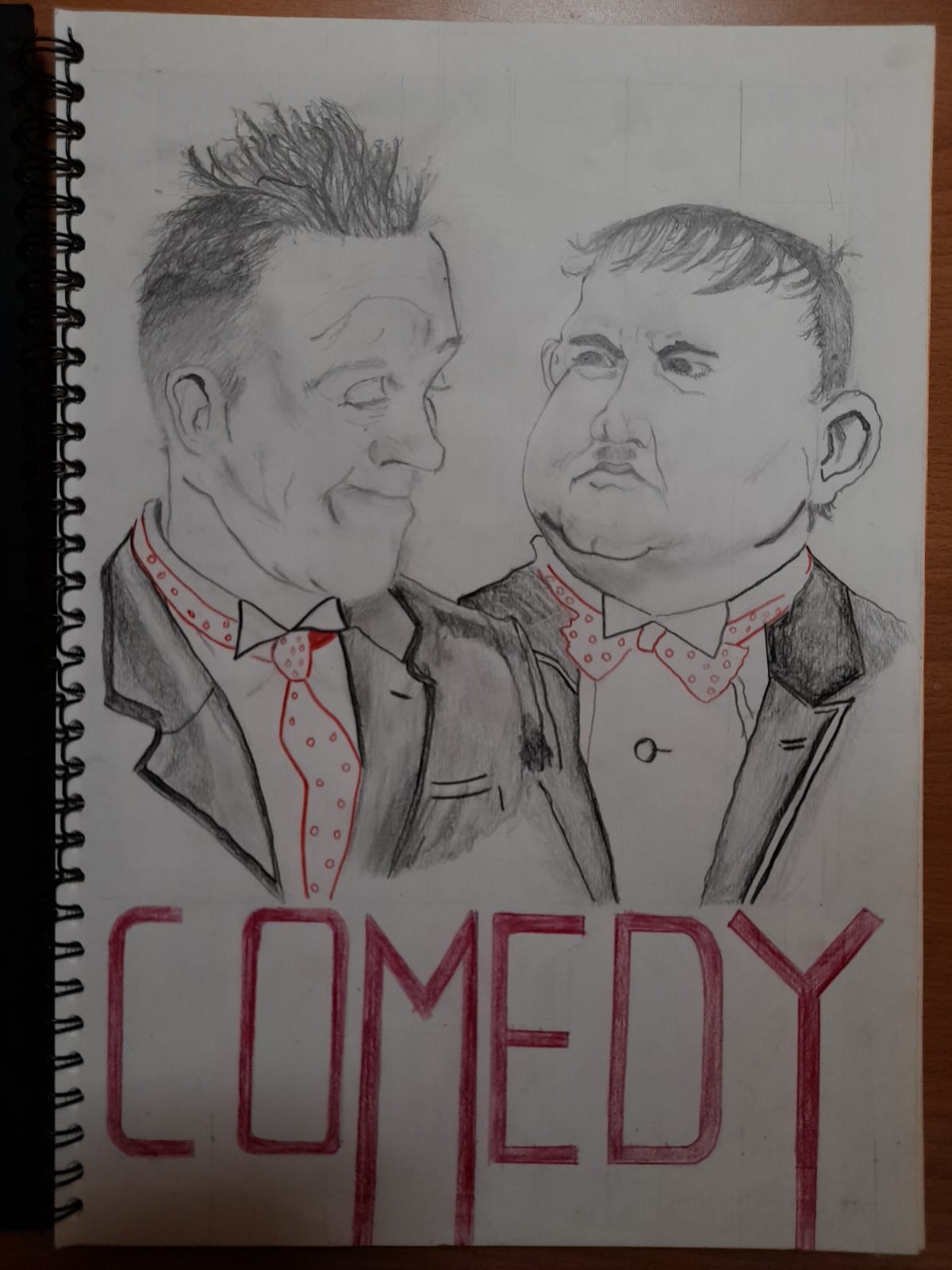 Ilya - Project: Formula One
"My Class 8 project experience was fun and interesting. I enjoyed watching a documentary on Netflix called: F1 Drive to Survive and learning about Formula 1. I never became bored or sick of my project and I am still following f1 after the presentations. Also, my family are more interested in F1 than they used to be. My project book has the best art pieces I have done in a while. The practical it was very challenging and I sent an email to England located F1 teams for logos and sponsor patches but only got a reply from the biggest team Mercedes, however, they said they couldn't send anything. When making my practical I made my own logos and sponsors except the Honda piece.
When making my practical I learnt how to make things on a sewing machine and to make it neat."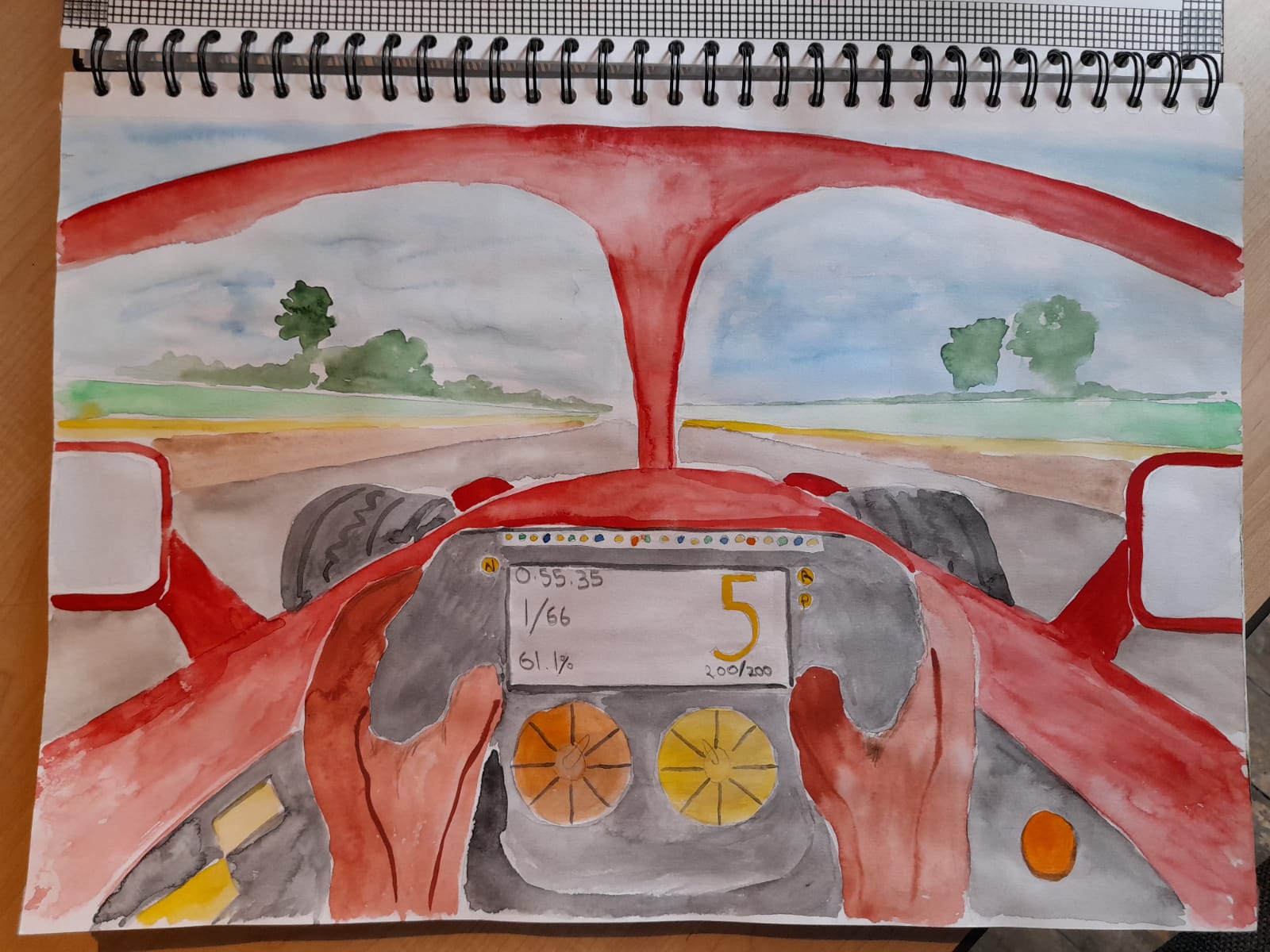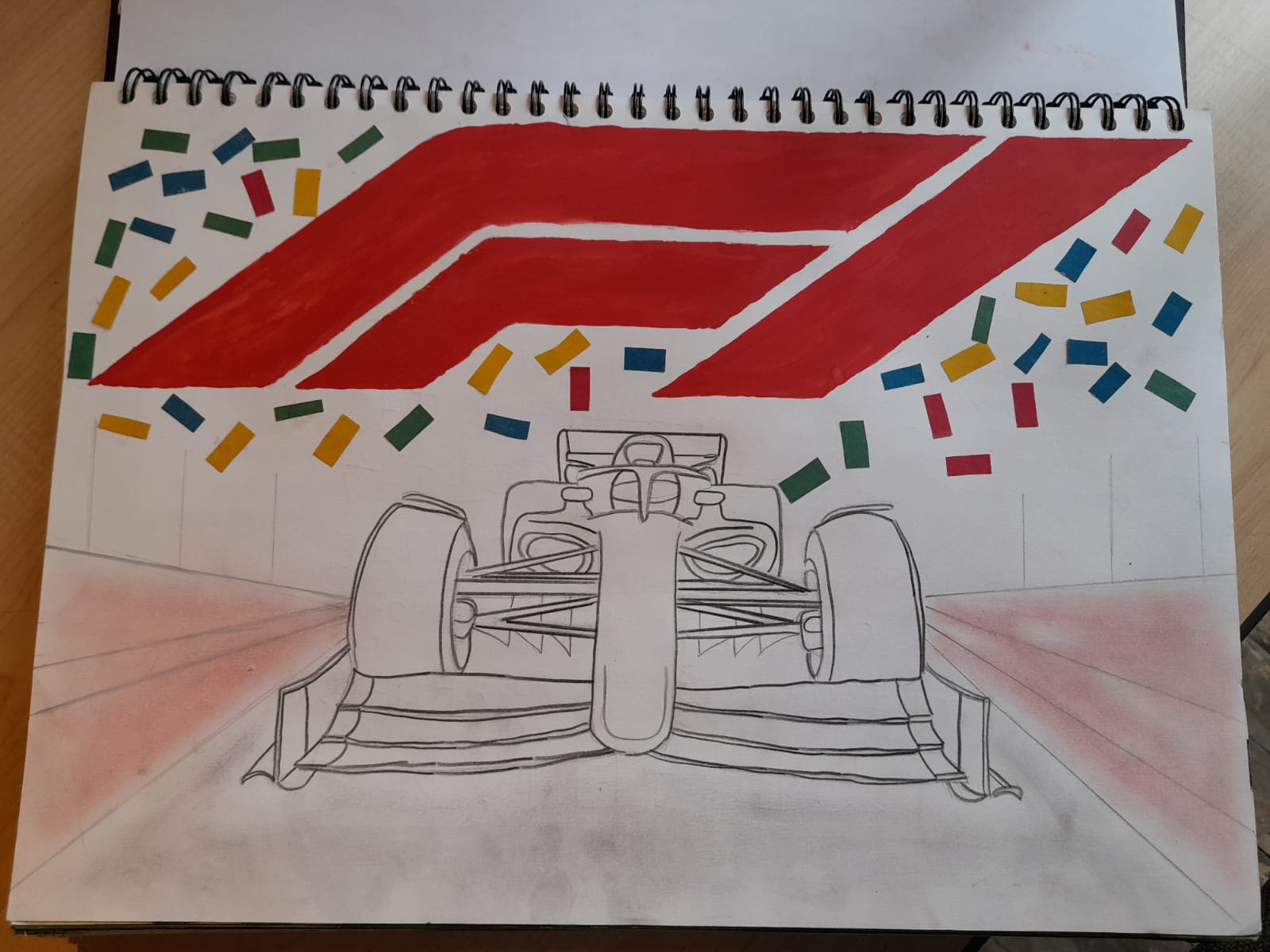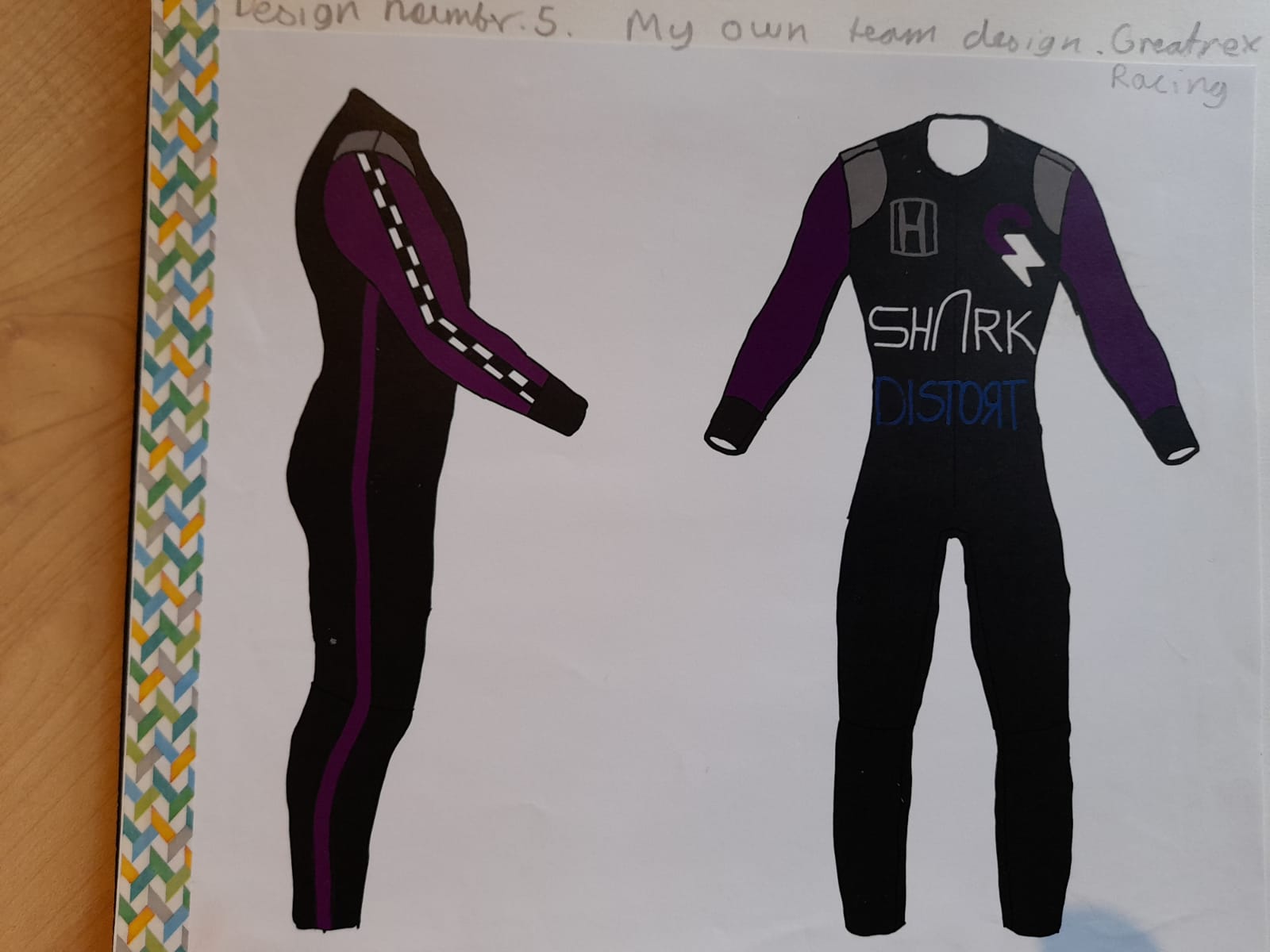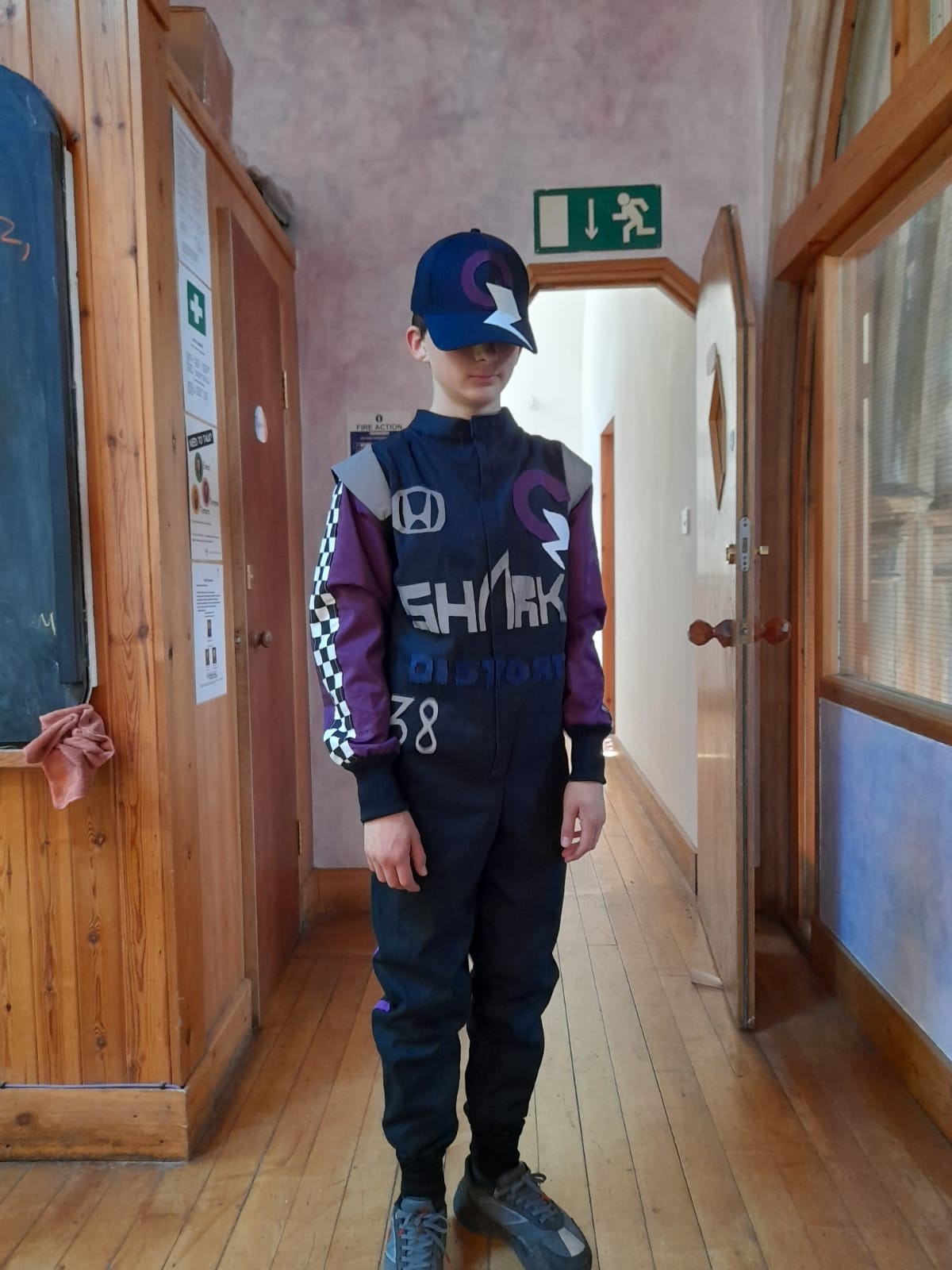 Ramu - Project: Keralan Cooking
"Although there were some ups and downs, my project was a lot more enjoyable than I thought it would be. At first, I thought it would include lots of tedious writing, but I would later realise that writing was one of the more fun parts, due to me learning more about Kerala. It took me a while to start my Keralan Recipe Book, in fact I started it in the Easter holidays, which were just a few weeks before the presentation. What I found the hardest was the art work. However, I made it difficult for myself, since I left nearly all of it to the last Sunday before the presentation. I feel like this project has not only helped me learn more about Kerala but also public speaking, presenting and how to write a project book of my own."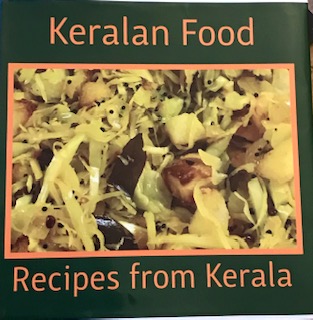 Neena - Project: London Transport
"My project was an amazing experience overall. It helped me realise the importance of organising my time and workload effectively and taught me valuable lessons about motivation. I think I will be able to use this experience frequently in the future, as well as what I learnt while learning and working in lockdown.
Surprisingly, one of my favourite parts of the project was actually presenting it. The reaction I received from the audience was just so incredible, the children were so attentive and the questions asked really challenged my knowledge of my topic.
One of the best feelings in the whole world has got to be when you're up on that stage and you see the jaws dropping and mouths hanging open, all of them craning over their seats to see better. To be able to give a child that feeling I used to feel at their age must be one of the most beautiful things a person can ever experience."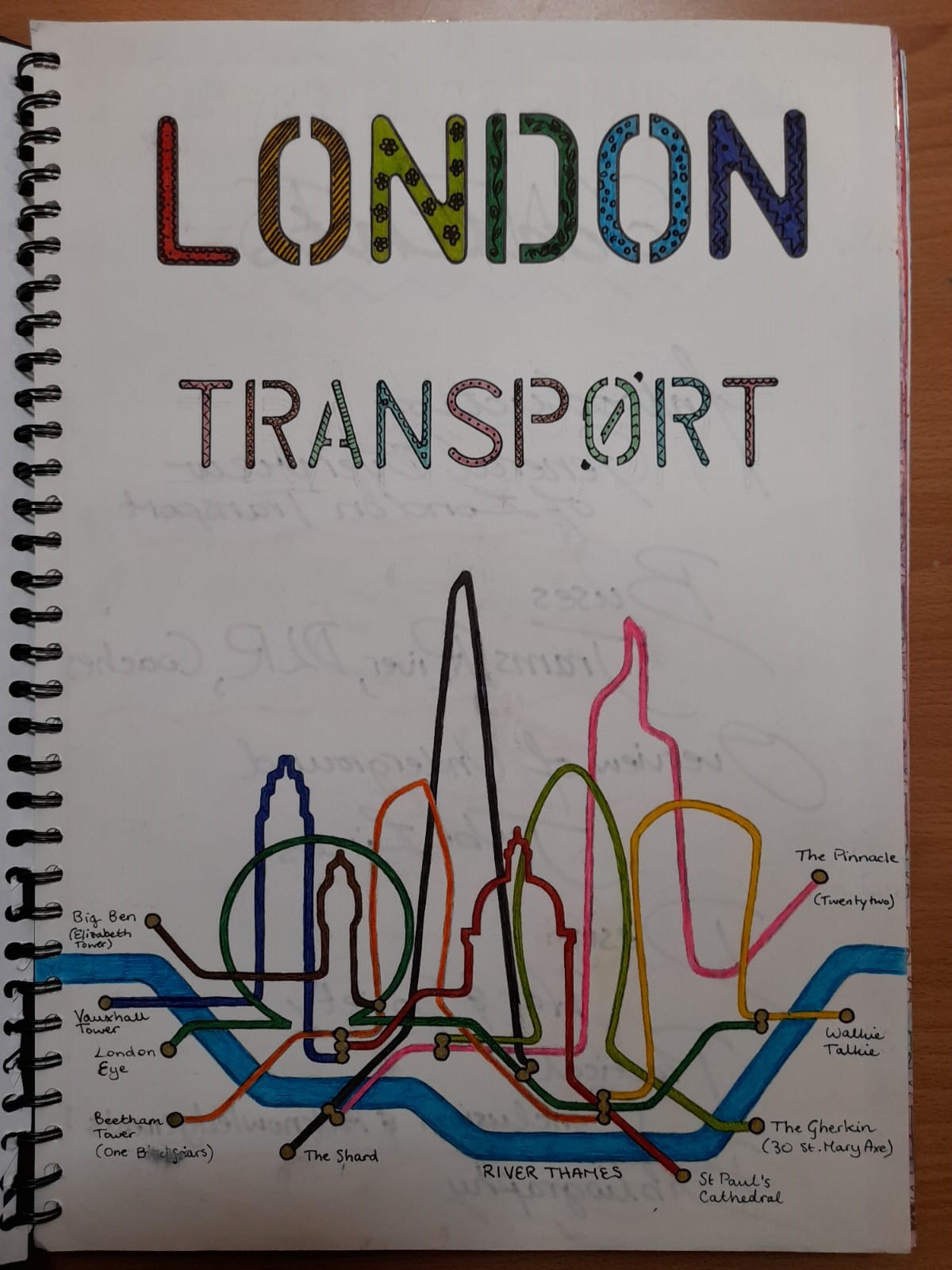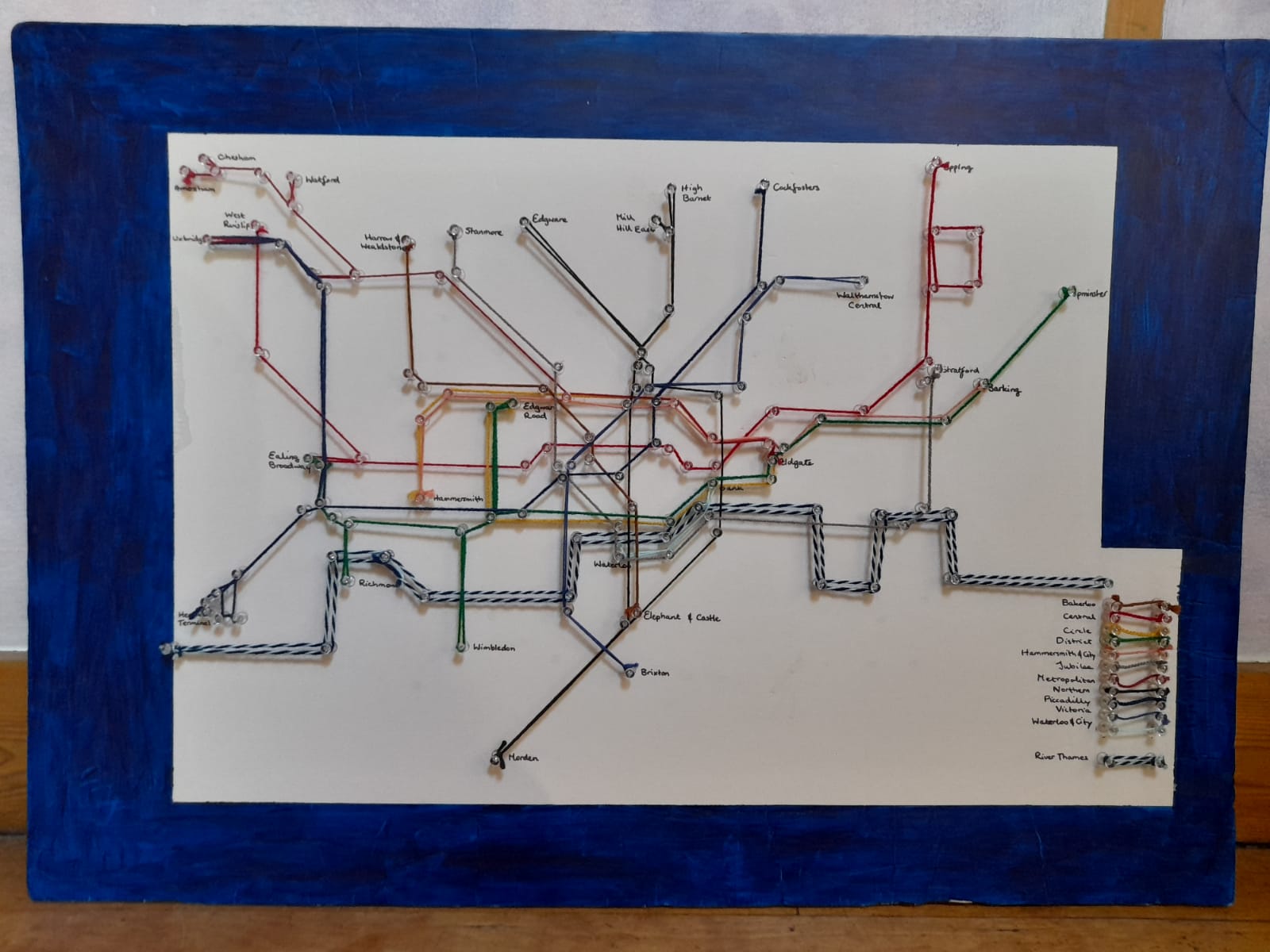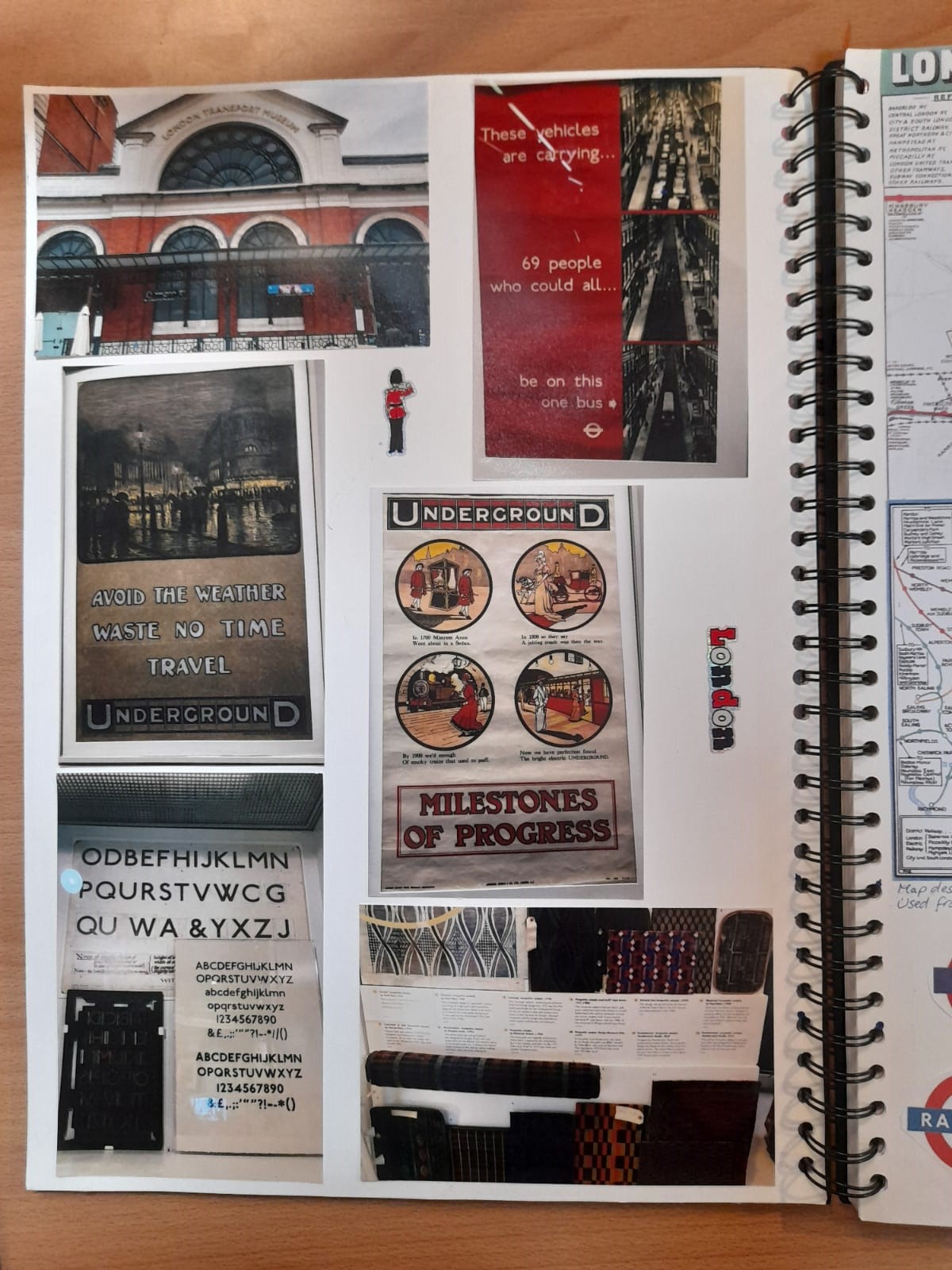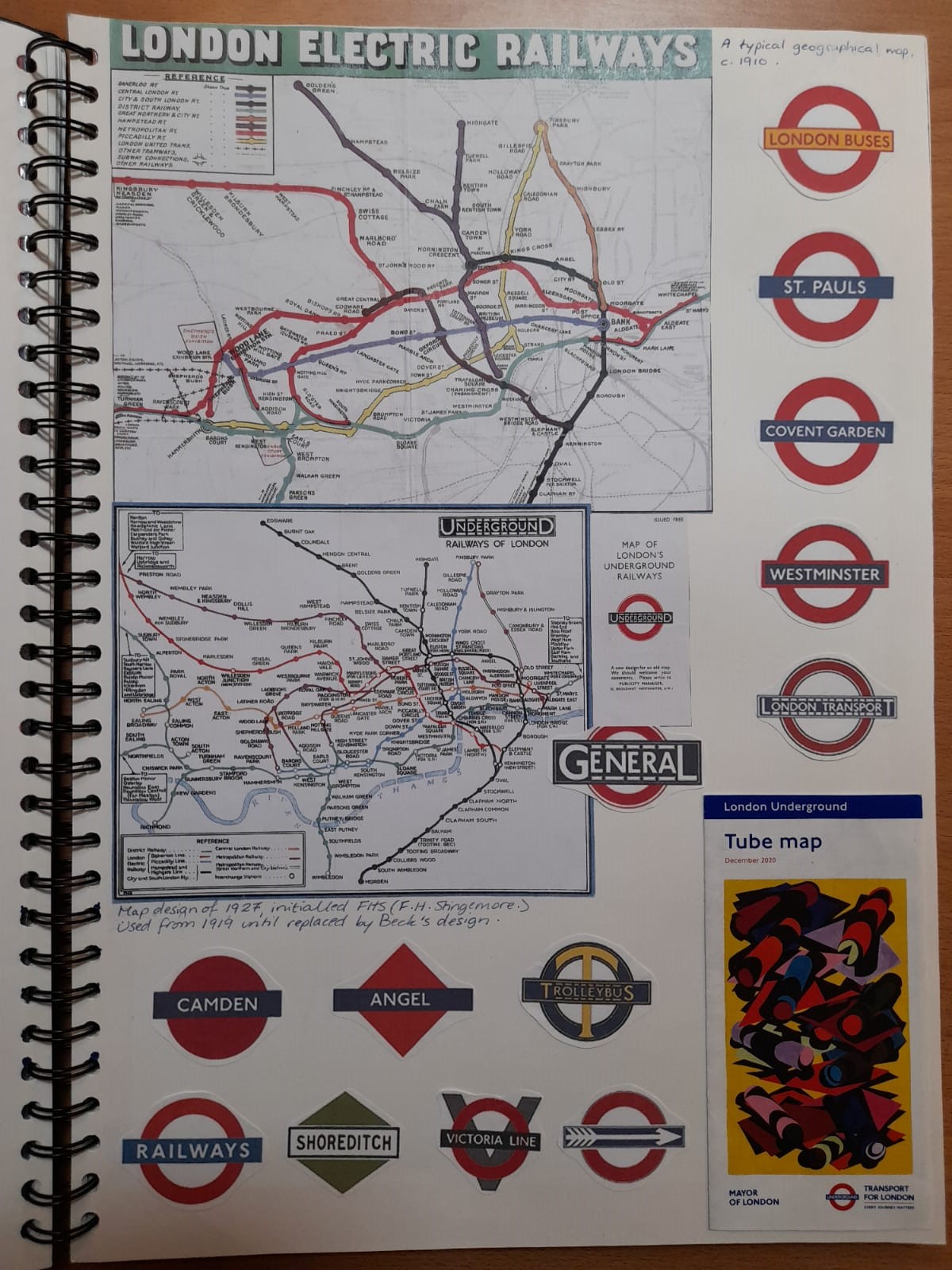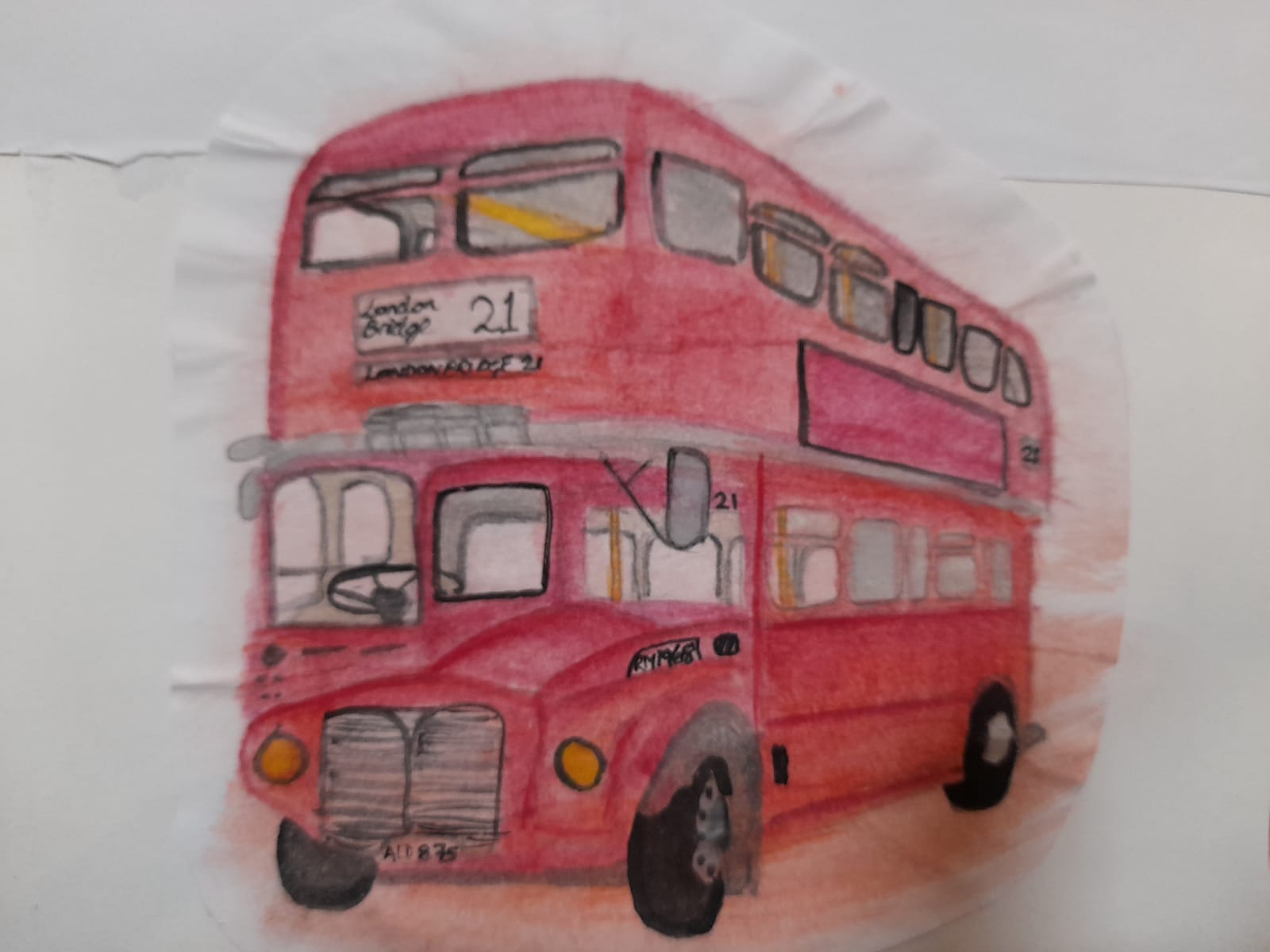 Caio - Project: Skateboarding
"Doing the class VIII projects wasn't easy for me. It wasn't easy because there was a lot of writing, drawing and researching involved and I struggle with settling down to do work. It took almost a year and there were many disruptions (such as COVID-19).
First Term
The first term was the easiest for me because I did no work. I would spend my project lessons chatting and would do no homework or work in general on my project. Soon enough the Christmas holidays came around and it was only until the second week in that I realised we were going to be presenting our projects in March, only a few weeks away! (At the time we thought that we were going to present in March) I shot into a kind of panic and finished over half of my bookwork in the space of a week.
Second Term
When the Christmas holidays led into a second lockdown, I relaxed again, thinking that I had plenty of time to finish my project as the deadline had been extended to May. Again, I did no work and relaxed (at home). I ended up spending most of my time on video games or playing football against my sofa.
Third and Final Term
During the Easter holidays, I did my practical. I already knew that I wanted to make a video and I had already planned it out. As lockdown was coming to an end I had decided to do skateboarding in London as a topic for my practical, so I went and did research, and soon enough I had a list of the skate parks I wanted to go to for this short documentary. I explained everything I wanted to do and told my parents and teacher. My dad agreed to do the filming and help with the editing. After roughly two or three weeks of filming and editing we had finished. I showed my teacher and my class and they all thought it was great.
All I had left to do was my speech which was easier said than done. I wrote three drafts of my speech and when I couldn't decide which final one I wanted to use, I ended up merging them together, however my teacher said it was too short and I had to start again from scratch. Eventually, I finished it and everyone was happy in the end - myself the most!"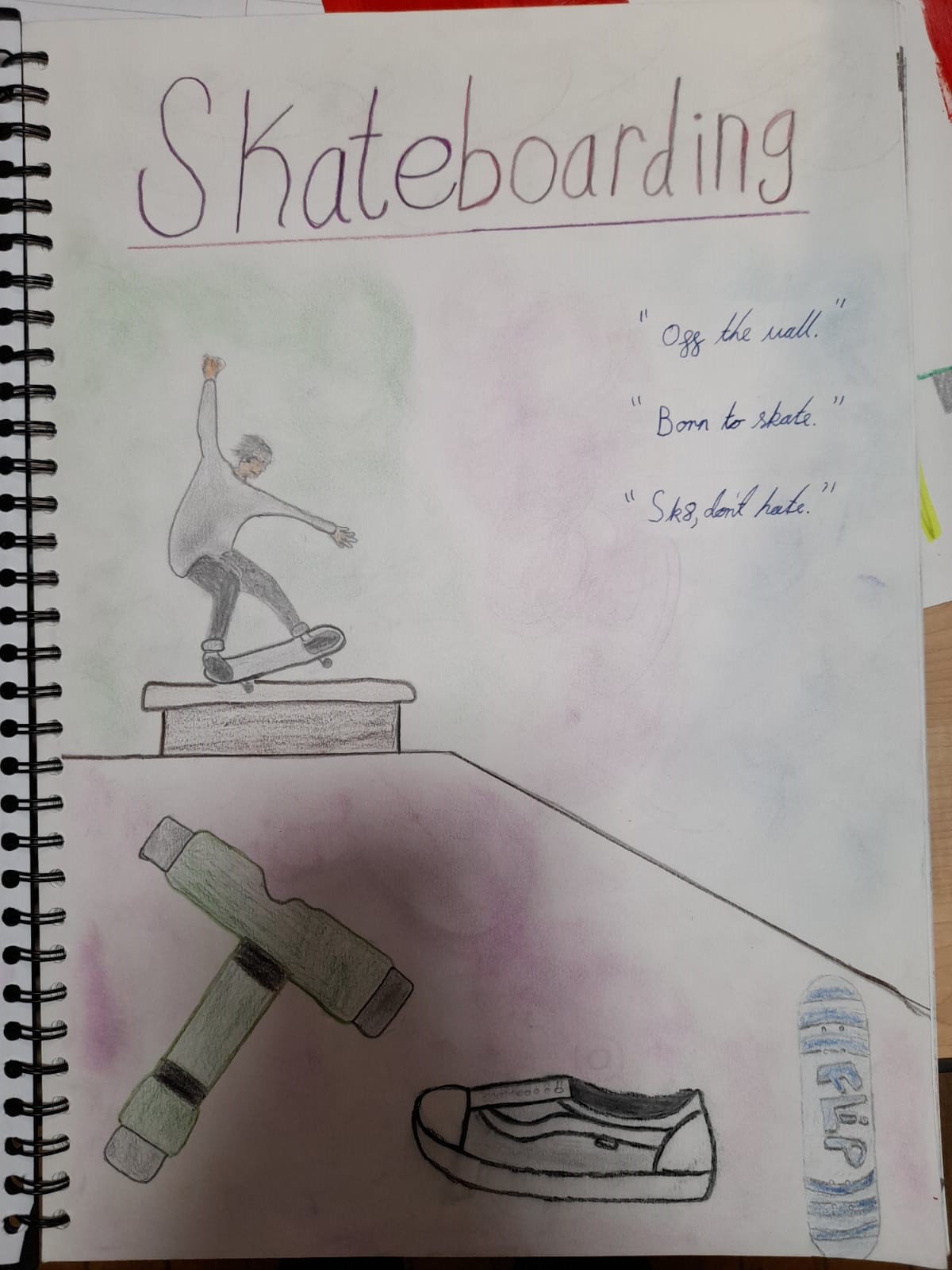 Rafi - Project: Animation
"For me not including the thinking of what to do the project was around eight months long, but it felt a lot shorter than that. I feel like I wasted a lot of time but I am still happy with what I did. I especially enjoyed the bookwork because I loved doing pencil drawings of famous stop motion animation characters. I also found the writing really interesting but I did not know what to narrow down on certain topics so I ended up with too little or too much content. I thoroughly enjoyed my project and if I had the time I would create more animations."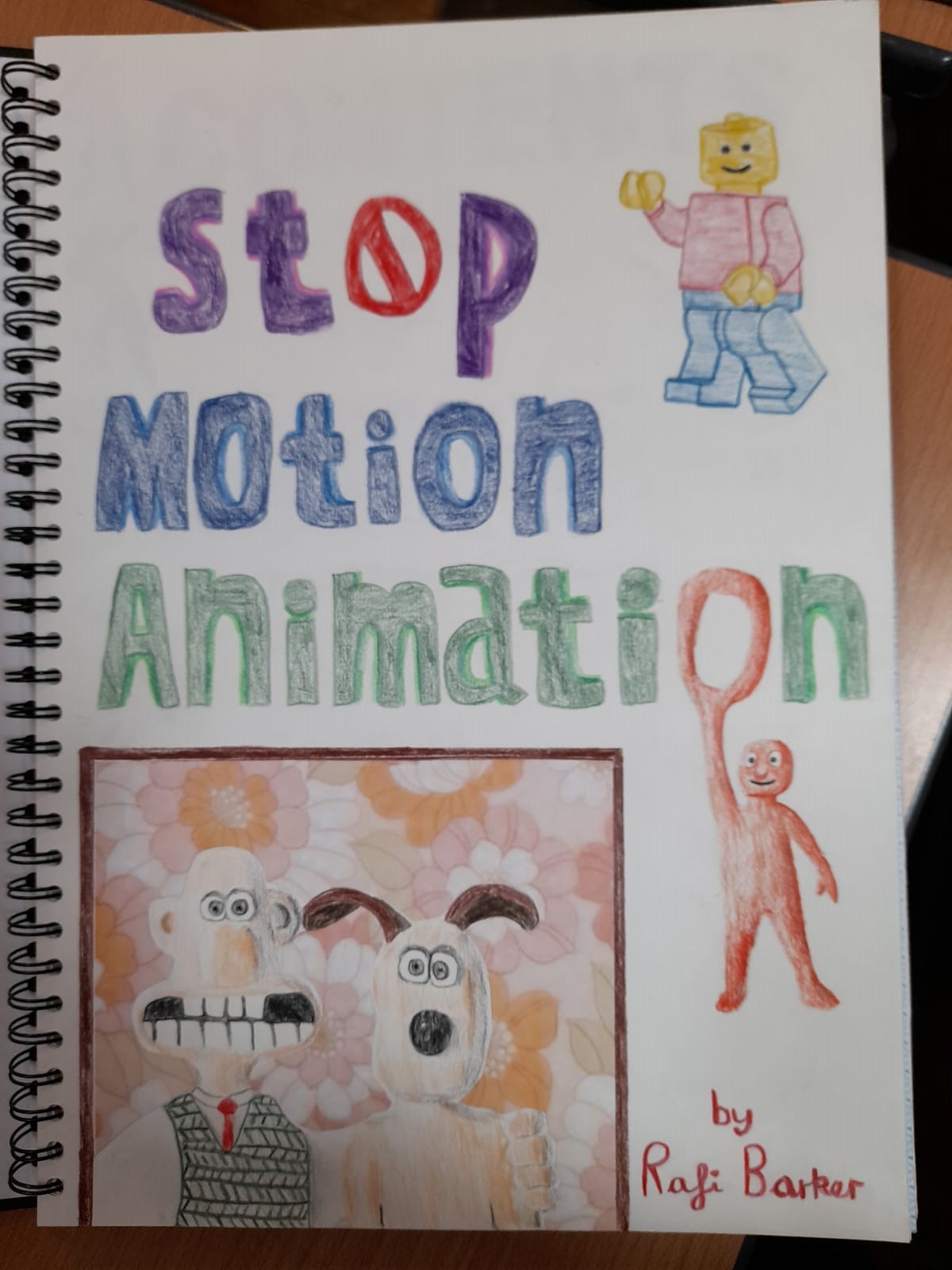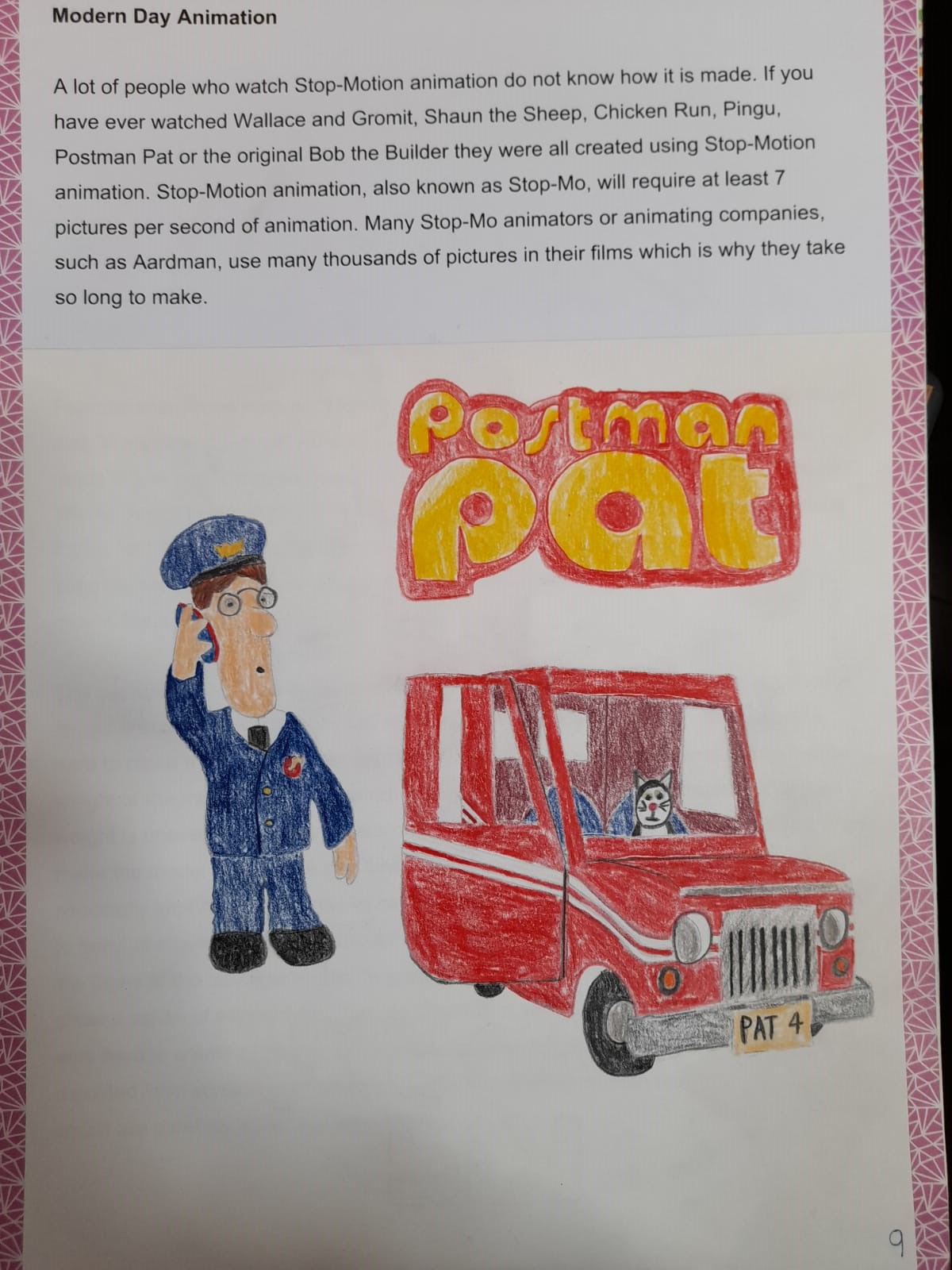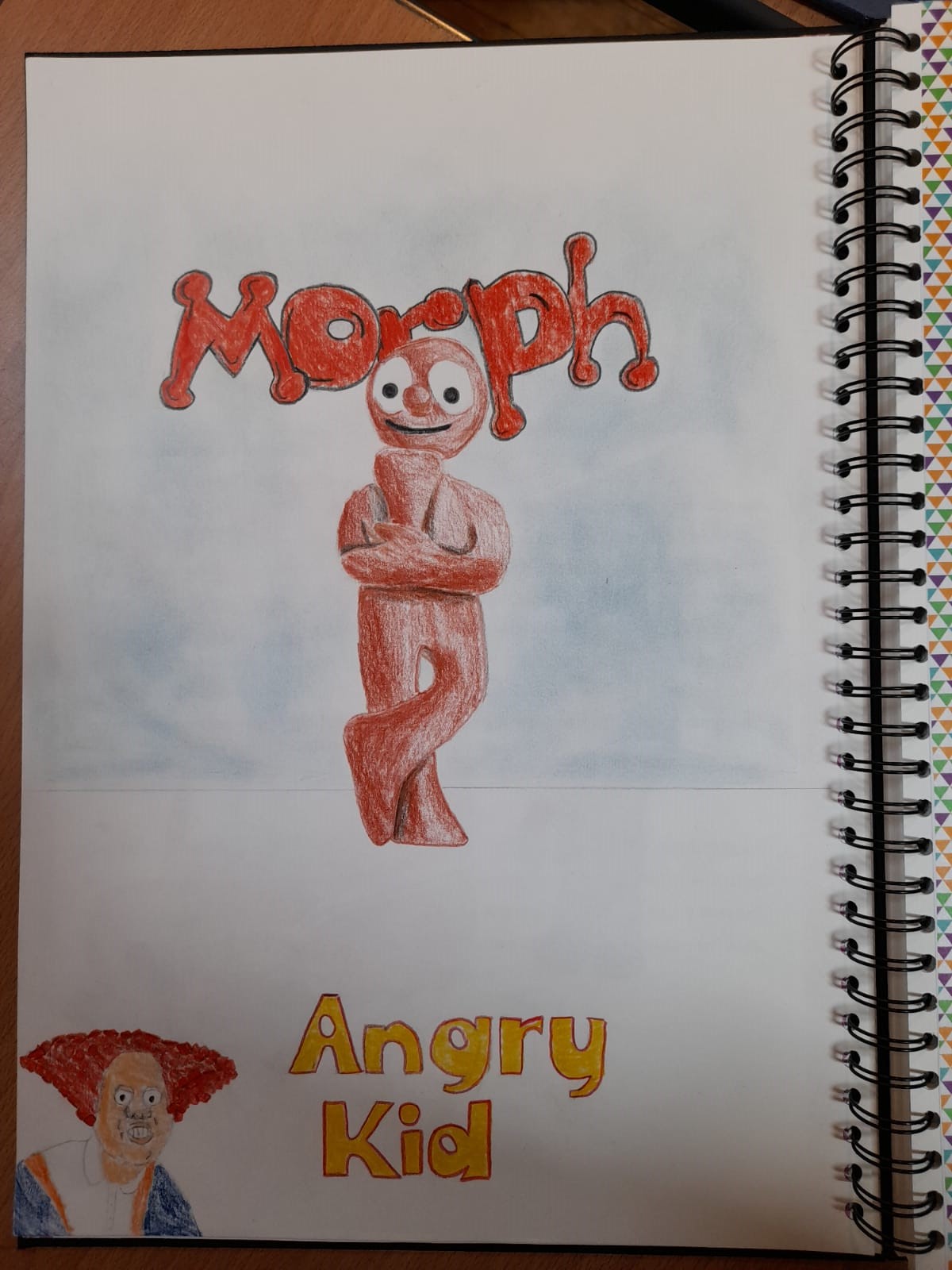 Rowan - Project: Make-Up
"The Class VIII project was a long journey. There were many ups and downs and although there were enjoyable moments, it was very tough. Finding the motivation within myself to get on with work was something I found very hard and I definitely procrastinated very much and it made it all much harder. The feeling of having conquered this huge mountain was incredible and I can't convey in words how happy I am that I did it. I do not think I could have got through the project had it not been for my family, friends and teachers, because if I am being honest there were definitely moments when I wanted to give up but with all the support I got through it. The experience was tiring yet also elevating at the same time. I think had I managed my time better, I could have done a little more but I am still extremely happy with the things I have produced. It has definitely made me so much more confident in public speaking which was a big help as it was something I really struggled with… my fear hasn't been cured it has just been weakened. I have cried, shouted and broken down from stress and frustration, but I have also smiled, squealed and felt energised with joy and happiness. The experience was a rollercoaster but I wouldn't change a thing about it because I have learnt so much and it all happened for a reason."
Milo - Project: Sports Clothing
"My Class Eight project was stressful but an enjoyable process. The favourite part of my project was learning about the history of sports clothing. The hardest part was trying to find the time and energy to do my work. All in all, I am very happy about how my practical has turned out and my chapters."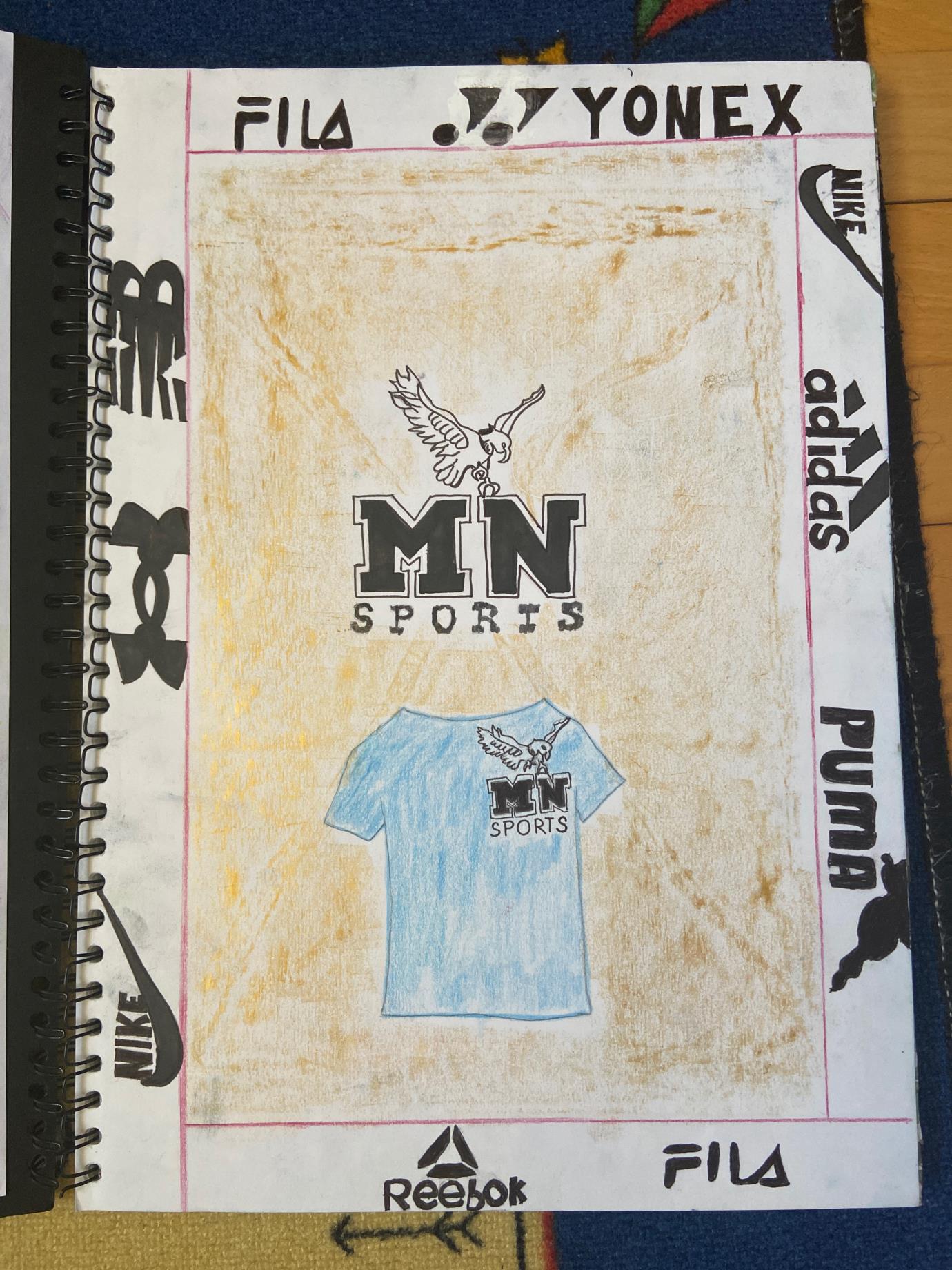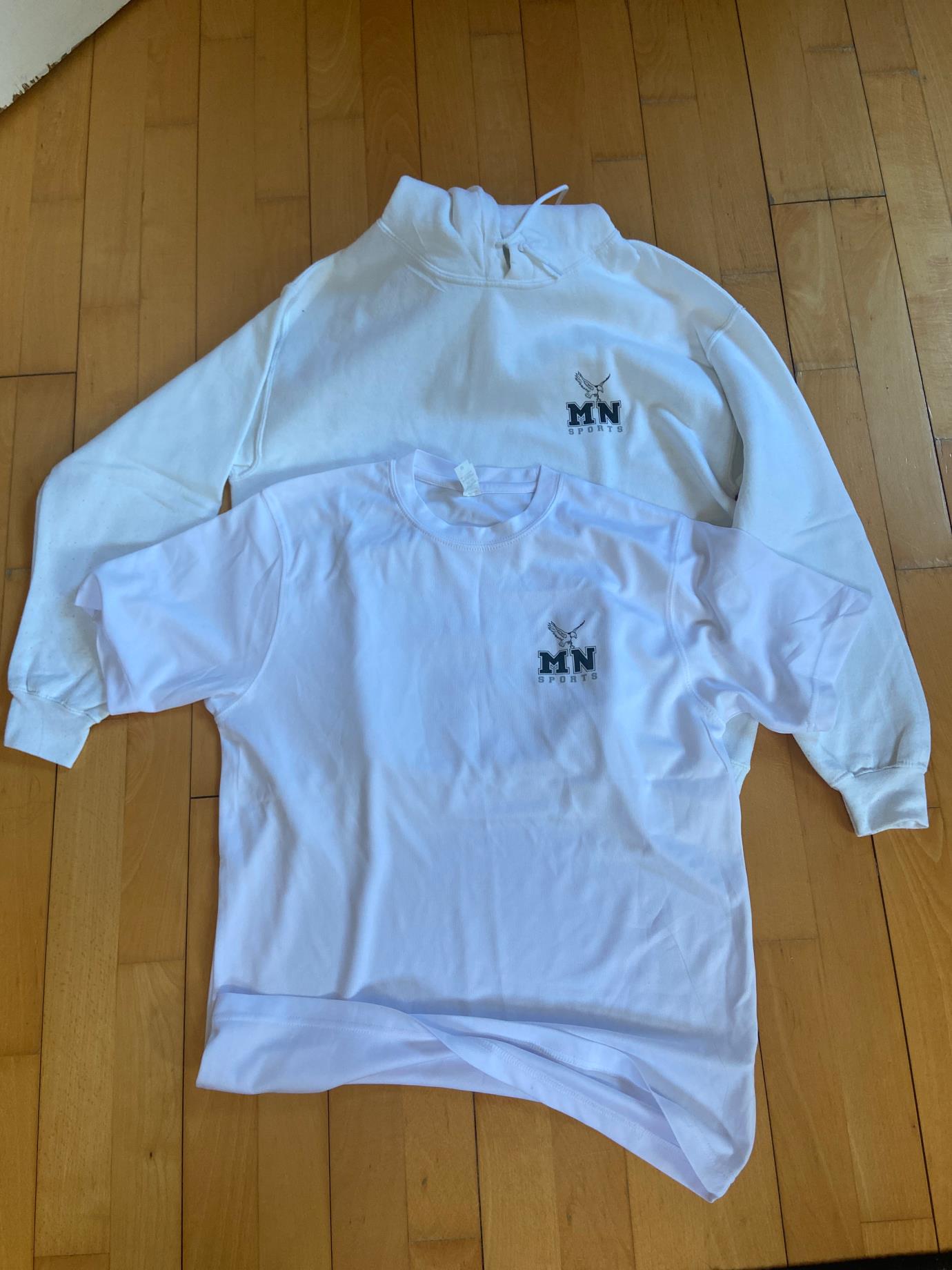 Zohar - Project: Street Performance
"For my Class VIII project I did street performance/busking. I have always found buskers very entertaining because of their uniqueness but I also took them for granted so busking was the perfect topic. The Class 8 projects are individual journeys which is sometimes a good thing and sometimes a bad thing but in my case it led to me to procrastination. Nevertheless, as you learn more about your topic, researching becomes more interesting and enjoyable. Along the way I found things and information that fascinated me and made me pull through the tough moments. Every single aspect of this project, from finding reliable websites to constructing and reciting a speech, brought with it many challenges and opportunities. My favourite part of this project was interviewing buskers because my topic allowed me to interact with extraordinary individuals. Even when I wasn't researching or decorating my book the Class 8 projects were still at the back of my mind and I made so many exciting, fun, horrendous and nerve racking memories. Looking back at my project it was definitely an adventure and I am really glad that I put so much time and effort into it. After I finished doing this project the first thing that hit me was how many things I learnt and how many skills I mastered. At some point I even had to put a big part of my life on hold because of my horrible management skills (which got better throughout this year) but the relief and satisfaction that I felt after I got off the stage were definitely worth it."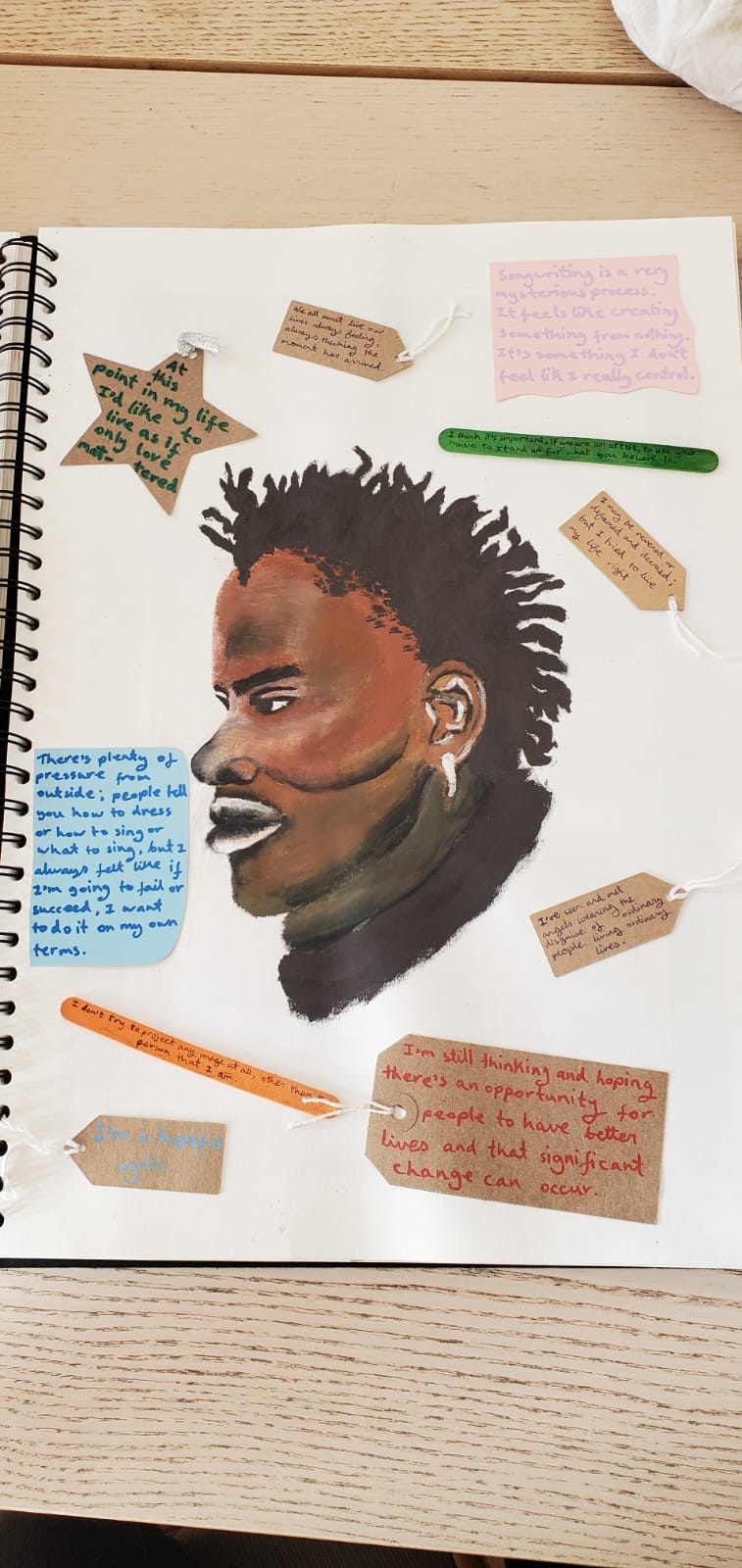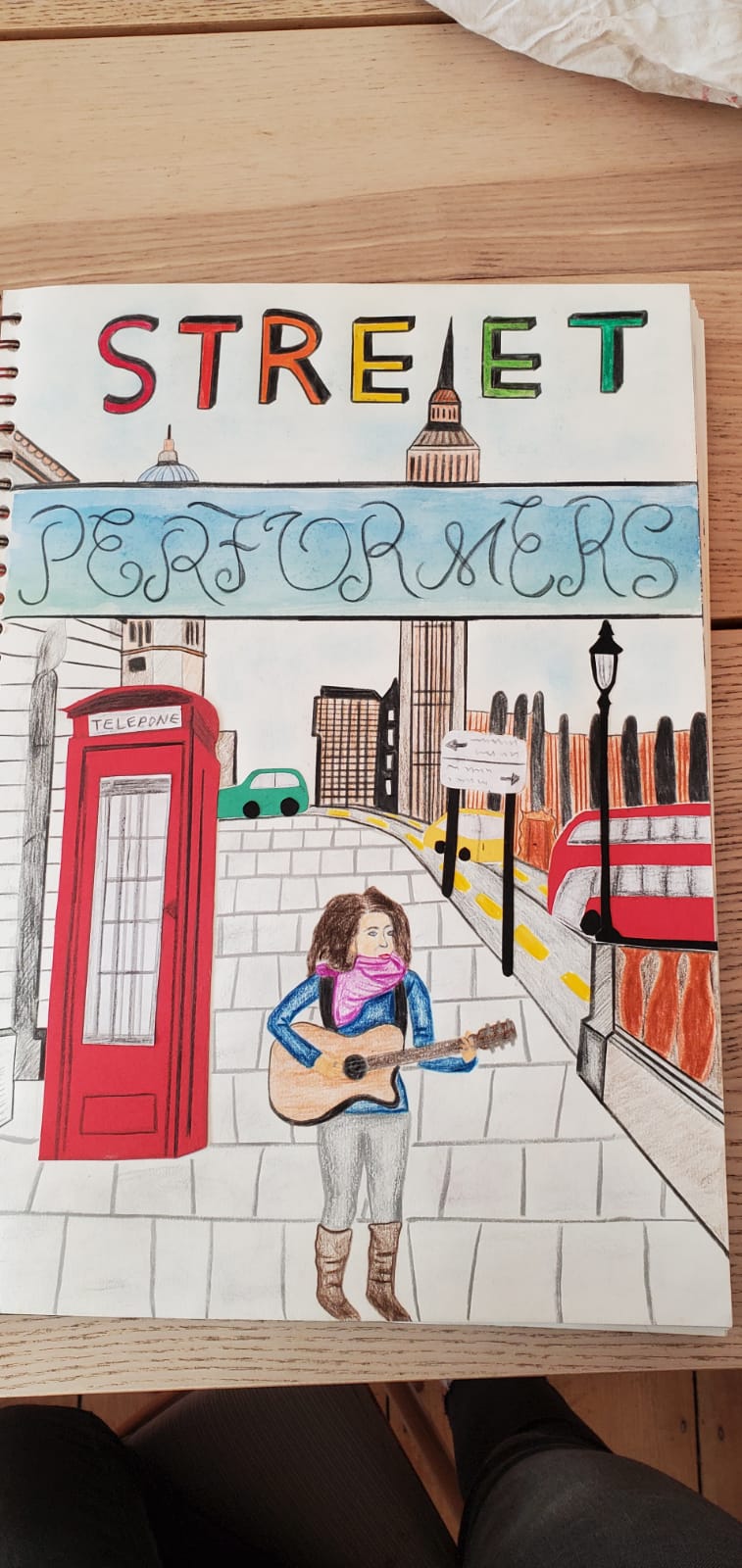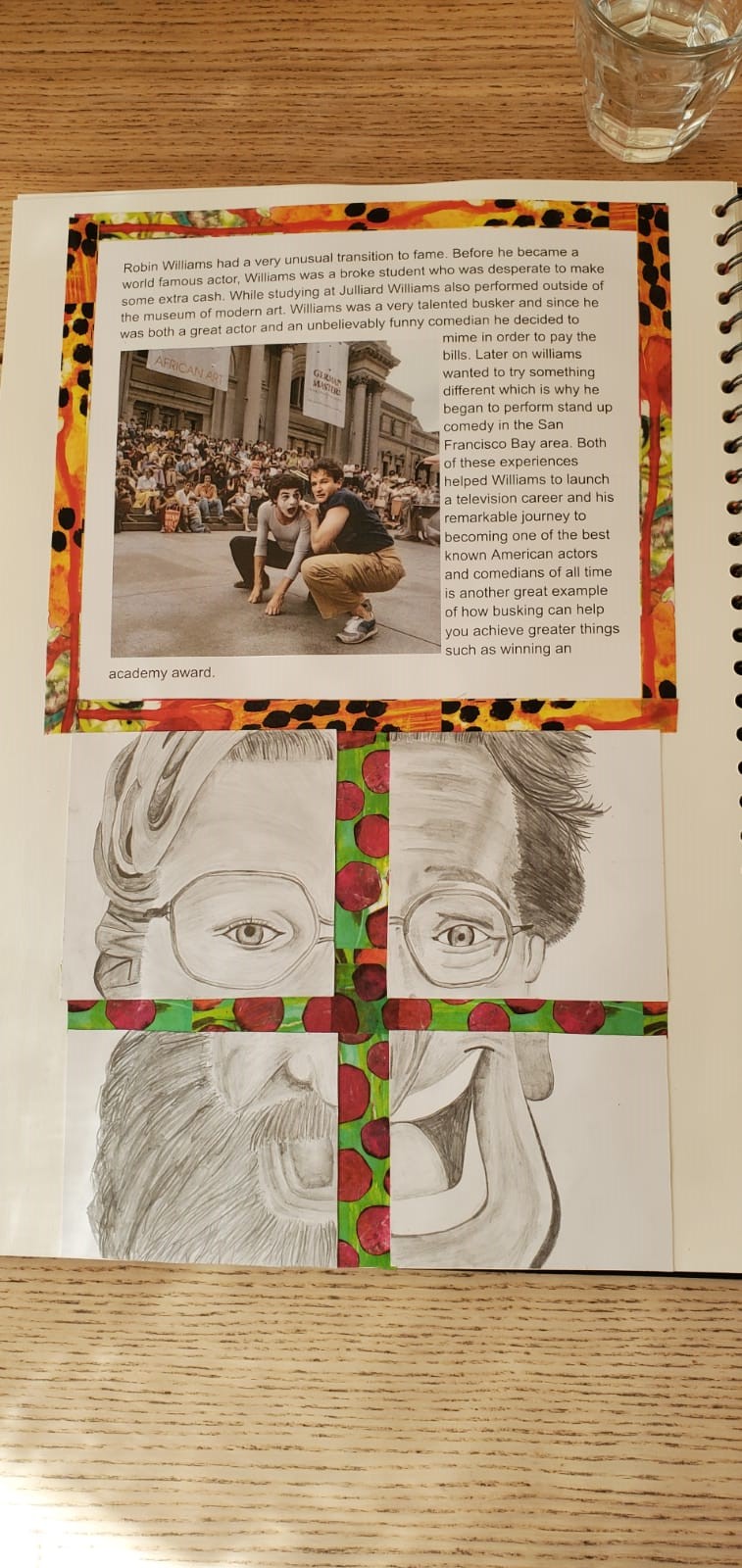 James - Project: Hip-Hop
"It's been around eight months since I chose Hip-hop for my project and I'm still really happy with that decision. At the beginning I went out and bought a lot of stationery so I could stay organised but I was only dedicating a small amount of time to my project so I ended up only completing one chapter in the first three months. Over the Christmas holiday I decided I had to get a big chunk of the bookwork done so I completed three more chapters. I was really enjoying myself and I was happy with my progress so I began to relax and that's when I started to procrastinate and quickly the Easter holiday had arrived and I was only half way done so over the break I had to complete the rest. I could have organised my time much better and I really wish I had but it was still an amazing experience that I think all schools should do."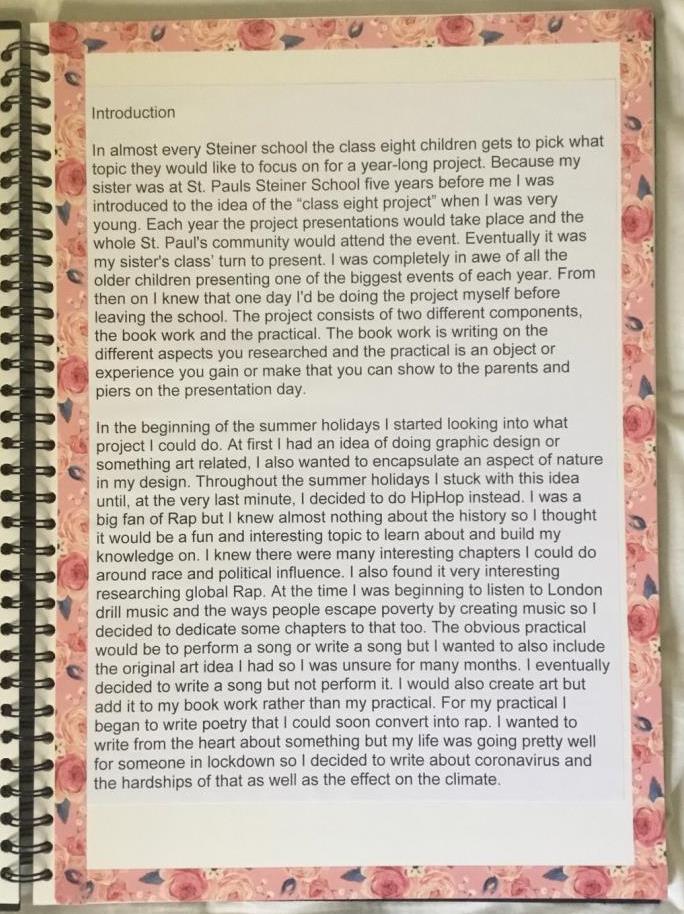 Jaya - Project: Mixed Race
"For my class 8 project I did mixed race. This project was a personal project to me and I had a lot of fun doing it. I have learnt so much not only about mixed race people but also a lot about things like black history which is a vital part of our history. This project was filled with great experiences and memories but although this project was very intriguing I found it very hard to get on with my work and that's when a great experience became super stressful. Traditionally the Class VIII projects are presented in March & that's the idea that was put in our heads. I had only started working on my actual bookwork in the middle of February which put a lot of stress onto me. When I found out the deadlines were after the Easter holidays I had put it aside which wasn't a good idea either. In the Easter holidays I spent the whole time on my book work as well as my practical. For my practical I went up to strangers in Camden Market and asked to get a picture of them. It was a great experience to talk to all these mixed race people but wasn't easy to interact after such a long time during lockdown. On the first day back from half term it was time to write our speeches and all of a sudden I was so nervous. I had carried on that nervousness for several weeks until I presented my speech to the school and it wasn't as bad as I though. I am glad to have it over and done with but also happy that I got to experience my Class 8 project and learn from it."
Rose - Project: Cake Making
"When I first heard of the Class VIII Projects I thought they were some crazy stressful thing I'd never be able to get through, but once I started, I realised I was completely wrong. Yes it was stressful at times but that was partly due to Covid and my project also gave me something to do in the holidays. It was super fun to decorate my Project book and to learn more about cakes. It was challenging but after I finished it and presented my Project to everyone I felt like I had achieved what I set out to do."