Issue 15
27th January 2022
Head Teacher's Welcome & News
Dear Parents,
The beginning of the new term has been wonderful. We all enjoyed the cross curricular, mixed age group, Wellbeing day. It is important to take time and have a collective experience of gong baths, yoga, singing, nutrition and enjoying all the sensory experiences that were on offer.
Our Lunar New Year celebration, with its red lanterns, stories and treats, is the start of various Spring festivals at St Paul's which will move into Candlemas 2nd February. We are grateful for the support from the parents. Candlemas is one of my favourite festivals in its quietness, its reflective quality of the inner seed about to burst with energy. The school children will dip candles in the hall.
Our Nave is still being cordoned off as a precaution. To give you an update, we are planning the work for the half term break when both the internal wall, ceiling and external stonework will be investigated. We are still waiting for a response from Islington about our old trees. I will talk about this and our future plans at the SPCG meeting next week.
Thank you all for filling in the Equality and Diversity survey. It was wonderful to see how many children are happy in school. It was clear that communication is still an area where we can improve. Please see the communications policy on the website. I will have a weekly parent surgery slot just after drop-off on Thursday mornings for school matters. Please book your slot with Mke@stpaulssteinerschool.org
The Relationship and Sex education policy is up for review. The upcoming forum is a time for parents to hear what we are doing and have a chance to contribute to how to make our school even better. I hope I will see you there 8th February at 7pm.
Warm wishes
Anna Retsler
Some examples of the Class's beautiful bookwork.
Paintings of Jacob's Ladder by Class III from their Old Testament block.
Class Four have been creating winter scenes. We've been concentrating on ways to create form using negative space as well as ways to mix colours using crayons.
They noticed how unusual the snowdrop is with its internal green frill.
Ms Brew
Class VI tried their hand at neutralisation experiments this week. The Class has been learning about acids and alkalis, understanding pH, how plants respond to pH, the effects of acid rain and eutrophication.
LGBT History Month will start in School on 1st February and Classes will cover various age and development appropriate issues over the next few weeks.
We encourage you to come to our
Diversity and Equality forum on Wednesday 8th Feb 7pm-9pm in School
Relationships and Sex Education
to meet the teachers and staff who work on our policies and advise with enhancing the curriculum in and age appropriate way.
The Lunar New year marks the start of the Lunar calendar (with the 12 zodiac animals), moving into the year of the Rabbit. Our Lunar New Year celebration is the start of our various Spring festivals. We have been helped by the communities within the school who will celebrate this festival with decorations at the entrance, fortune cookies, stories, giant rabbit drawing in Class II and Mandarin lessons in Middle School Maths lessons.
This is part of the Spiritual, Moral, Social and Cultural development of our pupils. We aim to foster appreciation for self, others and the environment.
It is of course one of our fundamental British values to promote mutual respect and tolerance of those with different faiths and beliefs.
The Museum of the Home, down the road from us in Shoreditch, has a lovely sounding Green Lunar New Year day this Saturday. It promises a day of creative workshops for all, supper clubs by ESEA chefs, mahjong club, thought-provoking speakers, film screenings and exhibitions, and a lively market stall selling unique products by ESEA artisans.
https://www.museumofthehome.org.uk/whats-on/exhibitions-and-installations/winter-festival-2022-23/green-lunar-new-year
The children of St Paul's had the wonderful opportunity to partake in a variety of wellness workshops such as Yoga, Meditation, Soundbath, Writing, Nutrition, Exercise, Games, Gardening, Singing and Drama. They left the day feeling energised, peaceful and joyful. This was the first of many different projects aiming at enhancing their well-being and help them develop the required tools for healthy, resilient minds.
It's so good for children to learn how to make beautiful and useful things with their hands. For young children the term "handwork" can encompass a range of activities. Think practical, artistic, or play based activities done mainly through the use of the hands.
Handwork is a daily part of a Waldorf early childhood because it-
Promotes capacities for thinking, measuring and visual perception
Helps to develop fine motor skill
Builds the capacity to solve problems, noticing mistakes and keeping count of their stitches
Builds the capacity to concentrate and focus
Teaches children to work with colour- choosing tones and shades that compliment
Develops patience, perseverance and delayed gratification
Awakens a child's unique artistry through the creation process, choosing textures and colours
Helps to develop a sense of gratitude for the earth's gifts of wool, plant dyes, wood and cotton
Introduces children to the ingenuity of human tools (needles, weaving frames)
Class VIII and VI
Hand work develops the will of the child allowing them to gain confidence and awareness of what is beautiful and practical. The glorious animals finished by these hand work classes are displayed in our Project Space. Our children have worked very hard on the animals using pattern cutting, felting (will), observation (thinking) and hard work (will).
If you have a chance to pop in and have a look please do.
Animals include, jelly fish, whales, mountain cow, goats, rabbits, otters etc.
Class IV Cross stitch
The involvement in cross-stitch offers the pupil the challenge to learn to work from the conceptual through to the material. In this process the pupils are guided to experience and become conscious of these skills in both on an emotional and intellectual level.
Hand work develops the will of the child through meeting new challenges, working rhythmically and striving to complete each project.
Our children of class IV have finished their cross-stitch mirror bookmarks in beautiful colours, rhythms and pattern.
They are all hung together in the project space.
Class VIII
The practising of handwork is not meant to provide just a pleasant past-time but to specifically help the child to develop a healthy imagination and harmonise his unfolding will and feeling of life. The older child's learning and enhancement of these soul faculties will form the basis for an active thinking life and possibility to form sound judgement.
With the introduction of a few new techniques to class VIII including embroidery and lino printing, we are encouraging the full head, hand and heart of their creativity.
Lino Printing is a form of block printing that involves carving a pattern or design into a linoleum, rubber or vinyl surface that can then be printed from. Designs are made and then transferred to allow the children to carve each design using hand work tools.
These pictures show the start of their learning and initial lino prints.
Taking the children's experience of embroidery throughout the lower school, we are starting to create personal styles and techniques in order to embellish the apron project.
The children have really enjoyed the new processes and learning these skills and their personalities are shining through.
Warmest regards
Hope Von Joel
Class IV to VIII children have been busy in woodwork this term making skipping ropes, knives, spoons, stools, pull-along toys and boxes.
I studied at St. Paul's Steiner School from the age of 3-13. I consider the school to be a very important step in my education for many different reasons. The holistic style of learning meant that singing, moving our bodies and creating art was a daily occurrence in most subjects, everyday. Involving my whole body in learning new subjects, as well as being encouraged to always help and be helped by others, taught me many more skills than I think I would have learned in another school. I learned that taking time and concentrating on details in my work would help me push myself so that I learned how to be responsible and critical of my own work. I learned that walking or reciting out loud when learning difficult maths equations, for example, would help me retain the information more easily. And I learned that I was valuable whether I was good or bad at a subject because my self worth did not wholly rely on my outcomes but on how I helped myself to improve.
I am currently in my fourth year at the University of Edinburgh studying Philosophy and Italian. I am positive that my experience at St Paul's Steiner school has given me the tools to believe in myself as a student and has helped me to strive for the future and career I want the most.
Sennin
We would love to hear from our Alumni. We invite you to fill out our St Paul's Graduate Questionnaire to keep in contact.
https://forms.gle/P5S9KN8TRpkQ3RBB8
If you know of anyone who would like to get in touch please contact mke@stpaulssteinerschool.org
Winter Wellbeing
Forest Bathing
The Japanese practice of shrinrin-yoku or forest bathing is proven to lower your stress levels. Go outside and find a quiet, green spot. It can be a forest, park, garden, or anywhere you like! Then take some time to absorb the calm of nature. Gaze at foliage, do nothing, and let your mind wander...
Bright Start Islington: Under 5s and Children's Centres
Bright Start Islington is our name for services for under fives and their families run in children's centres, nurseries, health centres, community centres and libraries across Islington. We support families from pregnancy to a child's fifth birthday.
In Quick Tips, the regular newsletter in addition to your fortnightly Bright Start Bright Ideas newsletter, we will be sharing quick tips, ideas, activities and practical advice to support the health and development of you and your child.
For further advice, tips and ideas, please use this link to sign up
https://content.govdelivery.com/accounts/UKISLINGTON/bulletins/341ad1a
PLEASE REMEMBER-
We are a nut and sesame free School. No hummus, tahini, pesto with pine nuts or sesame oil please in snacks and lunches.
Instagram @stpaulssteinerschool
School Website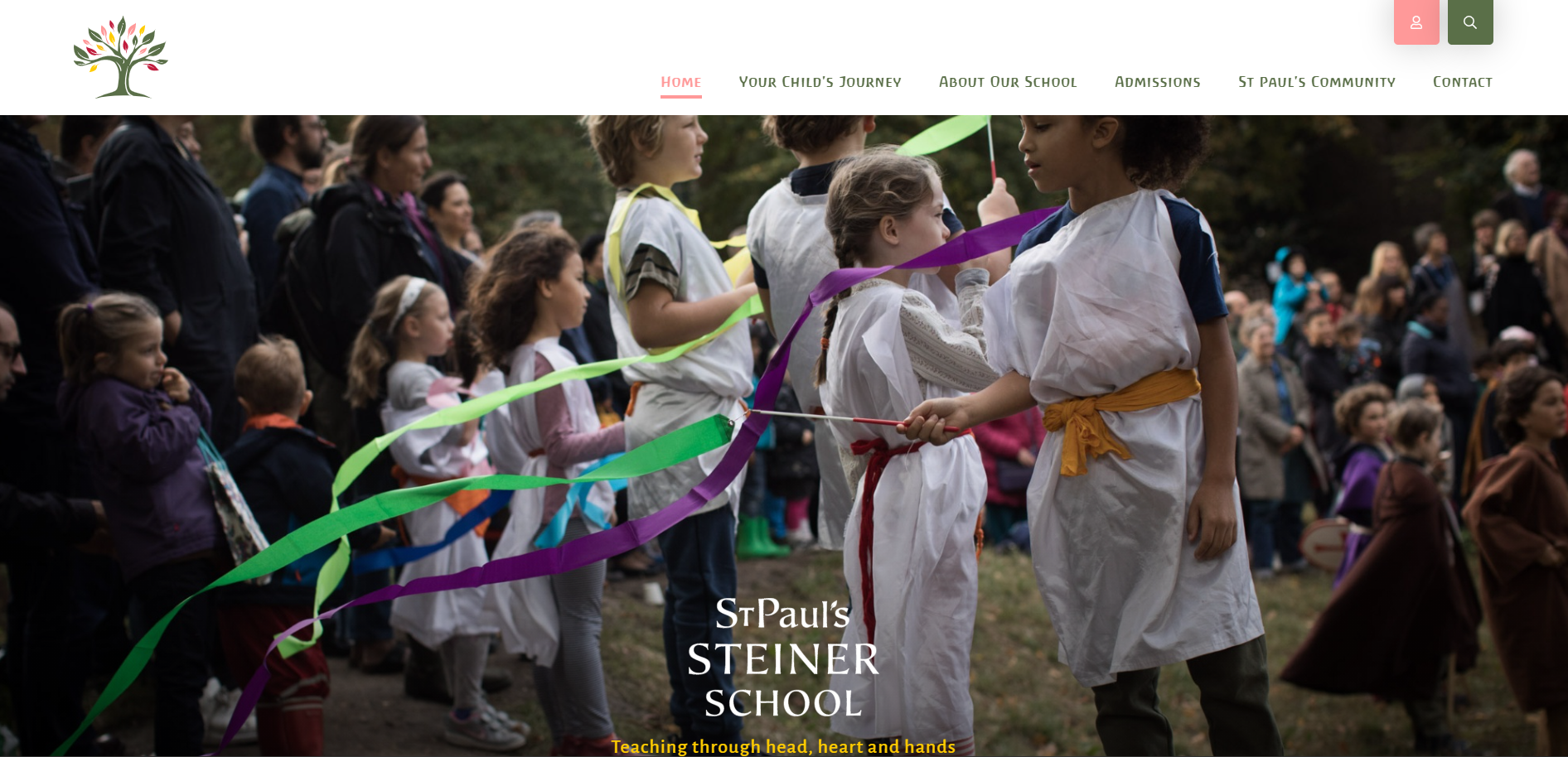 All welcome- St Paul's Community Group Meeting
31st January 7.30pm-8.30pm in School
Organise fundraising events, meet new parents, get involved in School life!
Join us for a range of Forest School activities at our half term forest school club at Hampstead Heath this February half term.
Try out den-building, crafting, using tools such as the saw/billhook, whittling magic wands and making potions, bushcraft and much much more! Ages 5 +
From Ms Gebauer, previously much loved Handwork Teacher at St Paul's!
WOOLY FRIDAYS WITH MARIELA
Copper Lane Parent and child Space
WET FELTING FOR BEGINNERS 27th Jan 9am - 11:30am
You will learn how to make a unique and decorative piece of fabric or a play-mat for your child.
NEEDLE FELTING FOR BEGINNERS 3rd Feb 9am - 11:30am
Come to make a beautiful Heart Garland to decorate Valentine's Day, using needle felting technique.
WET FELTING FOR BEGINNERS 24th Feb. 9am - 11:30am
Come and learn the process of felting a small bag. Once you have made this technique you will be able to apply these skills to others 3D projects as vessels, cushions, purses.
WET AND NEEDLE FELTING EASTER PROJECT
10th March 9am - 11:30am
Create a precious easter basket using all the felting skills you you have learnt in previous experiences with felting.
£20 per single session. £15 when you book more than one session.
Concessions available. All materials included.
Contact Mariela: 07454331485. mareche@hotmail.co.uk
Caterpillars Playgroup, run by school parent Marleen Crockett, has vacancies for next academic year for toddlers aged 18 months and older.
Tuesdays (8.30am-3.30pm),
Wednesdays (8.30am-3.30pm)
and Fridays (8.30am-1pm).
School pick up and drop off possible.
For more information, please contact Marleen
Speech and Drama in the Classroom with Dan Skinner
Suitable for teachers of children ages 10-18
Saturday 4 February 10am - 5pm
This workshop explores the place of Speech and Drama in the classroom for ages 10-18, drawing on many years' experience of teaching drama in a Steiner Waldorf school setting. Using voice exercises and exploring texts from different ages and different cultures, we will discover and work with appropriate texts for these age groups. This workshop is suitable for teachers, parents, and all those interested in exploring the role of voice and speech work in education.
After completing the Creative Speech training at the London School of Speech Formation, Dan Skinner worked as performer and director of The Rose Theatre Company in the UK from 1991-2005 well as an actor for Pantheatre, Portal Productions and several independent theatre productions and films. He is an experienced Steiner Waldorf teacher both as a class teacher and a drama teacher, most recently at Michael Hall School in Sussex. He is currently directing and teaching on the Eurythmy India training. To book, please email ilona.pimbert.rsh@anth.org.uk
£45 full /£35 concessions
WEEKLY EURYTHMY CLASSES
Eurythmy is an art of harmonious movement, developed by Rudolf Steiner, which can increase a sense of well-being and a deeper connection to oneself and others.
These classes are for every- and anyone, with no prior experience needed.
Well-Being Eurythmy with Sara Hunt
Wednesday 8, 15 & 22 February and 1, 8 & 15 March 5pm – 6pm
A eurythmy class suitable for those who prefer a gentle approach to movement. Exercises can be performed either standing or sitting but still involve the whole body. Benefits may include improved body awareness, increased mobility for activities of daily life, and improvement in an overall sense of well-being. You will leave the class feeling uplifted yet calm.
Please wear loose-fitting comfortable clothing and soft-soled shoes.
Price per class £10/£8 conc. (6 classes £50/£40 conc.)
Eurythmy for Everyone with Sara Hunt
Wednesday 8, 15 & 22 February and 1, 8 & 15 March 6.15pm – 7.15pm
An open eurythmy class suitable for beginners and experienced participants alike.
We will explore poetic qualities, like sounds, rhythms, and imagery, in-movement, as well as engage in exercises that increase coordination, contribute to an experience of embodiment, and expand self-awareness in playful and stimulating ways. Please wear loose fitting comfortable clothing and soft soled shoes.
Price per class £10/£8 conc. (6 classes £50/£40 conc.)
After many years as a teacher in Canterbury Steiner school, Sara graduated from West Midlands Eurythmy and subsequently completed a Masters in Eurythmy Education with Alanus University. Until recently, she worked as an educational eurythmist in Steiner schools and is presently a freelance personal coach.
Please book by phone 020 7723 7984, online www.marylebonetheatre.com/workshops-classes or in person at the box office or bookshop.
Rudolf Steiner House, 35 Park Road, London NW1 6XT
More to Life Tuesdays 6.30pm – 8pm
A series of talks exploring different avenues to finding greater meaning and purpose in our lives. The speakers come from a range of backgrounds and bring a breadth and depth of experience to their subject.
All welcome. £8, £5 concession.
Sea Sagas of the North: How Stories and Sagas Create Agency for the Climate Crises with Prof. Jules Pretty
7 February
Sea Sagas of the North takes the North Sea and eastern North Atlantic as its palette, and tells tales of ecological and cultural change in countries looking inward to the sandy shallow sea. A burnished ancient skipper of the drifters and trawlers leant across the café table overlooking the long-abandoned site of a beach fishing village, and said, 'You know, we were more tolerant and kind in those days, when we had the fishing. We went to other ports and places, and came back with stories and gifts.' An Icelandic author, Andri Snær Magnason, wrote a lament to their first glacier entirely to disappear, saying, 'How do you say goodbye to a glacier?' It is a common feeling for people, these days, to feel anxiety and fear, helplessness too, in the face of global-wide crises. Yet stories can create agency, can be like tricksters of old who set us on the path through the dark forest. A very simple solution exists: leave all fossil fuels in the ground. Yet implementation seems impossible. This talk is about hope and heroic journeys. It about acting and inspiring. It is about the options available to all of us for a low-carbon good life. Jules's new book Sea Sagas of the North: Travels and Tales at Warming Waters will be launched after this talk. Jules Pretty is Professor of Environment and Society at the University of Essex, and Director of the Centre for Public and Policy Engagement. His books include Sea Sagas of the North (2022), The East Country (2017), The Edge of Extinction (2014), This Luminous Coast (2011), Agri-Culture (2002) and Regenerating Agriculture (1995). He is Chief Editor of the International Journal of Agricultural Sustainability. He received an OBE for services to sustainable agriculture, an honorary degree from Ohio State University, and the British Science Association Presidential Medal. He is among the top 1% most cited scientists worldwide, and is host of the podcast Louder Than Words and film shorts series Brighter Futures.
Tolkien's Hidden Pictures With Mark McGivern
7 March
With his book, Tolkien's Hidden Pictures, Mark demonstrates how a new stream of Tolkien scholarship has brought us to a new door of meaning. Explored through the lens of Anthroposophy, we step into a world rich in esoteric imagery which reveals a reason this story holds such a cherished place in our world. Mark shows how the story is much more than
a literary entity. Rather, it holds close the long heritage of western myth and brings it into a new form for the future. Mark's new book Tolkien's Hidden Pictures: Anthroposophy and the Enchantment of Middle Earth will be launched after this talk. Mark McGivern was a Waldorf Teacher for several years. He is a long time educator in Anthroposophy and has a strong interest in the experience of mythic imagery. He lives on the West Coast of Canada.
Death and Resurrection
Annie Blampied-Radojcin
4 April
Approaching the miracle of Easter, we will consider how the death and resurrection of Jesus Christ changed the experience of life after death for the whole of humanity, as well as for the Living Earth. We will explore some possibilities of what may happen after someone has crossed the Threshold, and how we can support them in their evolving journey.
Annie Blampied-Radojcin is a One Spirit Interfaith Minister, with twenty years' experience in Steiner Waldorf education. She has worked as a chaplain in hospital, nursing home and hospice and is the founder and course leader of Quietude, a training course in spiritual and emotional support in end-of-life care.
For further information and booking please ring the bookshop on 020 7 7247699. Payment also available on the door.
My name's Holly Lowe and I'm a professional harpist and harp tutor living in Hackney. I already teach a few students at St Pauls Steiner but I currently have some availability this year for some new harp students and wanted to see if any others would be interested in taking up the harp?
I'm offering a half hour taster lesson to anyone wanting to try it out : ) You can contact me about lessons through my email address lowe.holly@gmail.com.
I'm a graduate of both the Guildhall School of Music and drama and The Royal College of Music and have been teaching harp for over 10 years. The harp is such a wonderful instrument to play and its a joy to pass this love onto others.'
Our next Newsletter will be out on Friday 10th February.
If you have anything to contribute, please email
mke@stpaulssteinerschool.org
no later than Wed 8th February. We accept notices from the community for £5 and £10 outside the community.
We hope you have a lovely weekend.