Issue 13
25th November 2022
Welcome to the St Paul's Steiner School Newsletter
In the Kindergartens, there is a strong focus on Personal, Social and Emotional development. Golden rules are established to teach appropriate ways of relating to each other, eg 'Everyone is welcome/Gentle hands/Kind Words', as it is understood that it is natural for children this age to forget these. Assimilating these rules and learning to control normal, impulsive behaviours such as hitting or throwing are some of the fundamentals of what is learned during the Kindergarten years. Although Kindergarten age children do not usually act with an intention to harm, teachers are aware that certain dynamics and patterns of behaviour can arise between one child and another and are alert to the need to work with the children and families to support such occurrences.
For Anti-Bullying Week last week, the children talked with their teachers about being kind, prevent bullying and what we can do to look after each other. Middle School workshopped performances for the Classes, Class I had odd sock week to celebrate differences and Class II made these beautiful posters.
Bullying is described as the repetitive, intentional, hurting of a person or group by another person or group, where the relationship involves an imbalance of power. It can be by threatening or frighten somebody or physically, verbally or mentally hurting someone. It can be in real life and/or online. A severe single incident can also constitute bullying if it is intentional and there is an imbalance of power.
Class 3 have just finished a Main Lesson block on shelters. They looked at different types of traditional homes and shelters, created some mud huts in groups, and built their own walls with clay bricks that they had made. They finished the block by considering their own homes and thinking about what makes a house a home.
Here is some of their work to enjoy!
Ms Miller
Yesterday Class IV had the chance to visit St John's the Evangelist Church in Upper Holloway as part of their Local Geography block. The church was designed by Charles Barry, who also designed our school building and the churches are almost identical! The children spent some time at the church, looking for features they could recognise from school, such as the windows, ceiling panels and carvings. Thank you to Rev Alan Comfort for opening the church and sharing an insight into how the building at St Paul's would have been used in the past. They came back to the Classroom and made models of the School and drew maps of the local area where they live.
Ms Cook
On Thursday 10th November at 6.30, we were able to enjoy and celebrate our first Middle School Evening since lockdown. The Middle School students were really excited to share their Main Lesson Work displayed so beautifully in the classrooms. Subjects included - Geometry and Roman History and Physics (Sound and Musical Instruments) – Class 6; Astronomy, Creative Writing – Class 7 and History (revolution), chemistry and Anatomy – Class 8.
After the parents visited each Classroom – there was an opportunity for refreshments including a delicious dahl and bread provided by Class 8. The Middle School were then able to share Poetry they had learnt for Black History Month, a Yoruba Song and a Prayer for Peace Song. Class 6 recited Mark Anthony's Speech from Shakespeare's Julius Caesar. Class 7 shared some of their Creative Writing – descriptions of their imaginary cities and Julian from Class 8 spoke his Anatomy Rap poem whilst Mack gave a short talk about his Project Cryptozoology. Lorenzo from Class 8 acted as Host and introduced the evening with great aplomb.
Ms Akawudike
Class VI have been busy learning about Business Maths in Main Lesson. Alongside learning about percentages, interest, exchange rates, and the basics of how banks work, they have heard inspiring talks from small business owners in our school community, and, most excitingly, are now setting up their own business! They have carried out market research to discover what their fellow students want to buy, have written to our school finance department to request a loan, and are in the process of getting everything ready to start business in January. All students have been given roles and responsibilities; we have logistics managers, a marketing department, a finance department, and a sales and orders department. You will no doubt be seeing and hearing from them soon with some enticing treats and offers!
Miss Tate
Isabelle Allan
After finishing at St Paul's I went to Kings Langley Rudolf Steiner School, and after finishing my GCSE's, I went to St Marylebone sixth form for my A levels. I am now in my second year at the Guildhall School of Music and Drama, studying Violin.
St Paul's gave me so much in so many ways, but what I hold close to me still, are the memories of the festivals and the times where we all came together as a community to make something happen. It's a constant reminder to me every day, of how important it is to make contact with people in our daily lives, and that the importance of coming together as a society for celebration or change is integral to our well-being, and is a reminder to remain open to those around us. Especially in times of hardship.
I hope to bring this into my studies and work in the future; making sure music remains accessible to everyone. In the future I'd really like to work closely with schools and music teachers to enable music learning to get to everyone.
I am a passionate chamber music player, with multiple regular groups. Often giving small concerts in London and around the country.
Our dear Class VIII finished their animal projects last week.
Handwork brings balance between intellectual and movement activities, allowing students to experience the struggle, joy, and care required in the creative process of our projects, especially in Class VIII where the projects are more complex.
Class VIII chose animals from a diverse span of the world, including an African Parie dog, North Pacific Sea Otter, European Roe deer to name a few, it's been fascinating for the children to learn about the worlds of each animal, and really ground them into this project.
Having introduced the "workbook" we are able to see their documentation of the animals from start to finish. Laying out plans, creating individual patterns, research, fabric samples, and animal research to go alongside their finished pieces. These are valuable skills that can be carried forward into creative based subjects to higher levels.
Our children have worked so hard on the observation of the characteristics of their chosen animals and so we have the most wonderful selection of finished animals.
Ms Von Joel
A magical Martinmas had by all on Hampstead Heath and in the Kindergarten Garden...
In music lessons, all classes have been rehearsing Christmas Carols in preparation for our end of term. The process from October to December is of utter joy for our students and in music lessons that mood is certainly enhanced!
Our school orchestra is preparing a set for the Advent Fair in which they will perform Christmas Carols and other lovely tunes. Class VI now have new Treble Recorders...
Miss Pintos
Get into the festive spirit in Islington this winter
Islington will be transformed into a twinkling winter wonderland this month as the borough's high streets switch on their festive lights. There will be loads of fun activities and great opportunities to support the fantastic small businesses in the borough.
The council is aware that many families are struggling with rising prices this winter. These free community events will offer complimentary refreshments and cost of living advice, alongside family friendly fun such as Santa's grottos, live music, face painting, late night shopping and loads more.
Cllr Santiago Bell-Bradford, Executive Member for Inclusive Economy and Jobs, said: "The festive period is the perfect time to take advantage of Islington's wonderful high streets and town centres. Shopping locally is so important for our economy - every pound spent at a small business is worth three times more to the local economy than spending money at a chain, helping us to make Islington a more equal place.
"The borough's shops, cafes and market stalls are always stocked up with a huge range of items that are perfect for gifts or holiday treats."
The first lights switch-on of the season will be on Thursday, 17 November in Angel town centre for Glow in the Angel, with events taking place all the way through until Saturday 3rd December.
The events are as follows:
Thursday 17 November (4pm – 8pm) – Angel town centre
Saturday 19 November (1pm – 5pm) – Nag's Head Shopping Centre
Saturday 26 November (1pm – 6pm) – Freeling Street, The Cally
Sunday 27 November (5:30pm) – Highbury Barn
Wednesday 30 November (12pm – 7:30pm) – Navigator Square, Archway
Friday 2 December (4pm – 7pm) – Whitecross Street
Saturday 3 December (12pm – 5:30pm) – Fonthill Road, Finsbury Park
Cllr Santiago Bell-Bradford added: "We know that this winter will be a difficult time for many people, but these events can be enjoyed for free by all. We hope that everyone can join us and get into the festive spirit. Come along to enjoy a mince pie and some festive cheer. See you there!"
More information about the events can be found on the IslingtonLife website.
Defibrillator for St Paul's
We recently applied for and was awarded a grant to help with the purchase of a Defibrillator for the school. Our new Mindray C1A Defibrillator has arrived and is now activated and ready for use in the school. We will register it so it is available for use to the public in an emergency.
Our hope is that we will never be used!
Tamara
Instagram @stpaulssteinerschool
School Website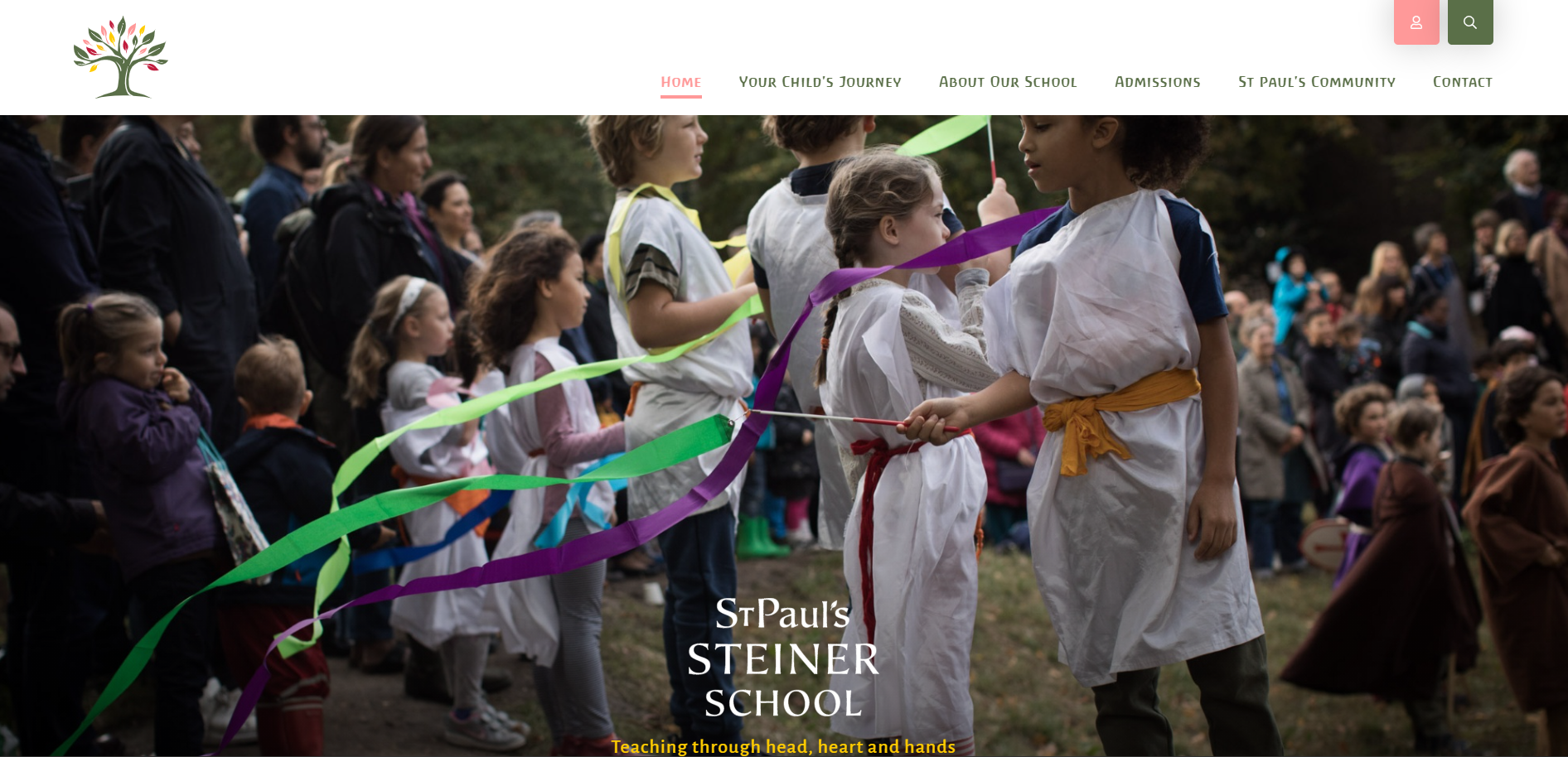 Harvest.
And so it begins,
autumn light so startling it dazzled our awakened eyes,
rusts, golds and burnt orange leaves fall from the skies like whirling helicopters,
Looking down; entranced, as rainbows encircled our beings.
Gathering, gathering carefully together.
It is our blessed time.
Ms Von Joel - Handwork teacher
A family based in Primrose Hill, London are looking for someone to help care for 2 young boys, (Boy 1) turning 3 in January, (Boy 2) just turned 1.
Starting ASAP,
Monday- Friday, ideally some flexibility with the hours, maybe some earlier starts and later finishes, depending on the week's activities/schedule,
Looking for a kind, gentle, patient nanny who is familiar with gentle and conscious parenting styles. Someone who has a background of Steiner/ Waldorf is desirable, who uses sensitive observation and appreciation for non-directed, independent play. An outdoorsy, nature loving person is ideal, who is happy to take the boys out some days. Someone who is also very imaginative in their ideas of play, in tune with the boys' needs and being observant at all times, who has a positive perspective and outlook.
Duties:
Supporting the children attentively in a safe and nurturing environment with the daily routines and rhythms of their day
Looking for someone who can very much become part of the family and stay long-term. This is a screen free environment.
Non-smoker.
Please call Hannah, 07736276597 or email your interest to hannahwaidhofer@gmail.com
PLEASE REMEMBER TO BUY/SELL YOUR RAFFLE TICKETS! MORE AVAILABLE FROM PAM. SOME REALLY TREMENDOUS PRIZES THIS YEAR. THE WINNERS WILL BE ANNOUNCED AT THE FAIR.
WINTER TOY APPEAL
Please if you haven't already, donate a gift at the Project Space.
Pam will guide you to where to leave it
As with previous years, St Paul's Steiner School is supporting the local Winter Toy Appeal.
We ask that each family, if they can, please buy a new gift (unwrapped) for a child in London experiencing extreme poverty.
Any toy however small is gratefully appreciated.
You or your children can drop your gift(s) here at reception into the designated box and and we'll pass them on to the Appeal organisers.
Toys are distributed via a network of schools, children's centres, refuges, migrant centres, hostels, councils and social workers to children in most need.
Last year the appeal, which is run by the Stoke Newington Local Buyers Club, reached 5,600 children.
This year toys are needed more than ever and as early as possible please so that the organisers can sort and wrap them and get them distributed.
ONLY NEW GIFTS PLEASE(unwrapped) - NOTHING USED
For more info visit https://www.localbuyersclub.com/winter-toy-appeal
Christmas cards available from Pam 🎄❄️⭐️

CASH only please-1 card for £3, 4 for £10 and 10 for £20.
All go towards SPCG funds 💫🙏💫
🌲 St Paul's Christmas Trees 🌲
2022

We are very pleased to announce that we have Christmas Trees for sale as a school fundraiser again this year. Last year we raised around £700 for the school - it would be great to raise even more this year! A generous donor has offered to match any fundraising we generate from the trees and Advent Fair up to £2,500 - with funds raised going to buy a much needed new PIANO for the school, and other school equipment.

All of the trees are Nordmann Firs and available in 5 different sizes. Now we have experience of the trees from the last two years, we can confidently say they were great quality and lasted well for Christmas!
100/125 CM / 3 - 4 FT £30
125/150CM / 4 - 5 FT £35
150/175 CM / 5 - 6 FT £40
175/200 CM / 6 - 7 FT £50
200/250 CM / 7 - 8 FT £60
HOW TO ORDER:
email to ruanna.brook@gmail.com WITH YOUR CHOICE BY TUESDAY 29TH NOVEMBER 3PM!!

We need a minimum order of 20 trees to go ahead. All orders need to be registered by Tuesday 29th November by 3pm. If we don't hit the minimum requirement, we'll make sure to let everyone know by the 1st December.
HOW TO COLLECT YOUR TREE:
We have a delivery date of Wednesday 7th December. You can pick up trees from outside the St Paul's Road entrance between 3-4pm on the 7th, or the following day, 8th December in the morning at drop off 8.15-8.45am, or 1pm pick up.

Please pay when you pick up your tree. We will have a card reader.

We may have some wreaths available. They will be for sale on a first come, first served basis. 20 - 25 CM £20 / 30 CM £25

Happy to answer any questions! Please direct any questions to Ruanna either in person or email: ruanna.brook@gmail.com
Thank you all and look forward to hearing from you.

Warm wishes for Advent and the Winter season!

Ruanna
Class V rep
WORK DAY 10th December
The next work day activity will be moving class 7+8 furniture for the floor to be done and also moving these doors back to their original position by the back stairs. We will then clean what is revealed behind. Please bring a picnic lunch to share.
All welcome!
What will be behind the doors... ?
Paulo from Soft Egg, our School Computer IT Support, is involved in a very worthy charity who refurbishes old tech to pass on to people in need. Feel free to bring in your old computers and tablets!
I am selling to try to raise funds for the charity SUDEP (Sudden Unexpected Death from Epilepsy) which has little government funding and there is little public awareness of it.
Joy de Berker's son, Jacob, aged 37 years, sadly died from this 'syndrome/condition' a year ago. In the recent past Joy has had a great deal to do with the promotion of Early Years Steiner Education in this country, giving talks and courses for teachers and students and has run parenting classes for many years for parents who are interested in Rudolf Steiner's approach to the early years. Joy has worked closely with many Kindergartens in the UK, particularly with the Bristol Kindergarten, and has run study groups for people who are interested in understanding and working with Anthroposophy.
I myself worked as a Kindergarten teacher and Parent and Child Group leader at the Bristol Steiner School, and am now retired. I would like to help Joy's quest to promote a wider understanding of sudden unexpected death from epilepsy (SUDEP), and give support for families who are affected.
If anyone is interested in buying any of the books, they can email mke@stpaulssteinerschool.org for this list or janegirling@hotmail.co.uk and I will send the book(s) and the link for payment.
We hope you have a wonderful Advent Spiral this weekend.