Issue 12
4th November 2022
Head Teacher's Welcome & News
Dear All,
I hope you all had a restful half term.
This half term is always full of events and we are delighted that we are able to meet in person and share experiences together. Class V's Diwali Festival and Seneke Sillah's drumming workshops were wonderful and the performance a joyful ending to Black History month. Before we move to the spirit of the holidays we have much to do.
The Kindergartens and younger classes are preparing their lanterns for Martinmas with its strong gesture of sharing while the oldest classes are more focused on Remembrance. They are also preparing for sharing their work with their parents in the Middle school evening. In College we have remembered those who have had a connection with the school and passed away. Letitia Constantin is one of those we feel gratitude to.
We are able to have meetings in school again and teachers have been meeting with families to talk about the children's progress. The 16th and 17th are the dates for Subject Teachers' Parents' evening. You will shortly receive an invitation if you have children in classes V-VIII.
Please note that the in-person meetings will replace the written, autumn Learning update you have been received during the COVID years. The teachers are continuously assessing the children's work and the first written report will come at the end of February. We want the parents to be aware of where the children are in order to provide support at home before the end of year report in July, so this in-year report will continue.
One of our focuses this year is on improving attendance. It is so important to take part in the gentle rhythm of the Kindergarten and the full experience of learning in school. Repeated lateness is disruptive to the flow of the morning. Our main lesson blocks are irreplaceable learning opportunities. Individual families will receive letters to let you know when attendance has dropped to below 90%. We will also share with the community in a separate, attendance newsletter the school wide attendance data termly.
I am looking forward to seeing you at one of the November events, the next coffee morning will be on the 16th.
Warm wishes,
Anna Retsler
Diwali
We celebrated Diwali with Chestnut Tree Kindergarten by sharing some of our family traditions. It was wonderful to be able to come in and celebrate Diwali with our son and the children and teachers of Chestnut tree Kindergarten before half term. We started the day by preparing some treats for snack time, the children helped chop up some vegetables before they were sauteed in Indian spices and filled in filo pastry to make samosa parcels. The children also enjoyed chopping up and deseeding some fruits native to India like mangoes and pomegranates. We made a large rangoli pattern using autumn leaves, berries and flowers which were topped with beautiful clay divas that had been made by the children earlier in the week. Before having snack we said a prayer in Sanskrit and enjoyed eating Diwali treats. The children ended the morning with a story about Diwali.
Shefali & Dillan, Chestnut Parents
Here are some images from the Diwali celebrations in the other Kindergartens
In loving memory of Letitia Costain 1935-2022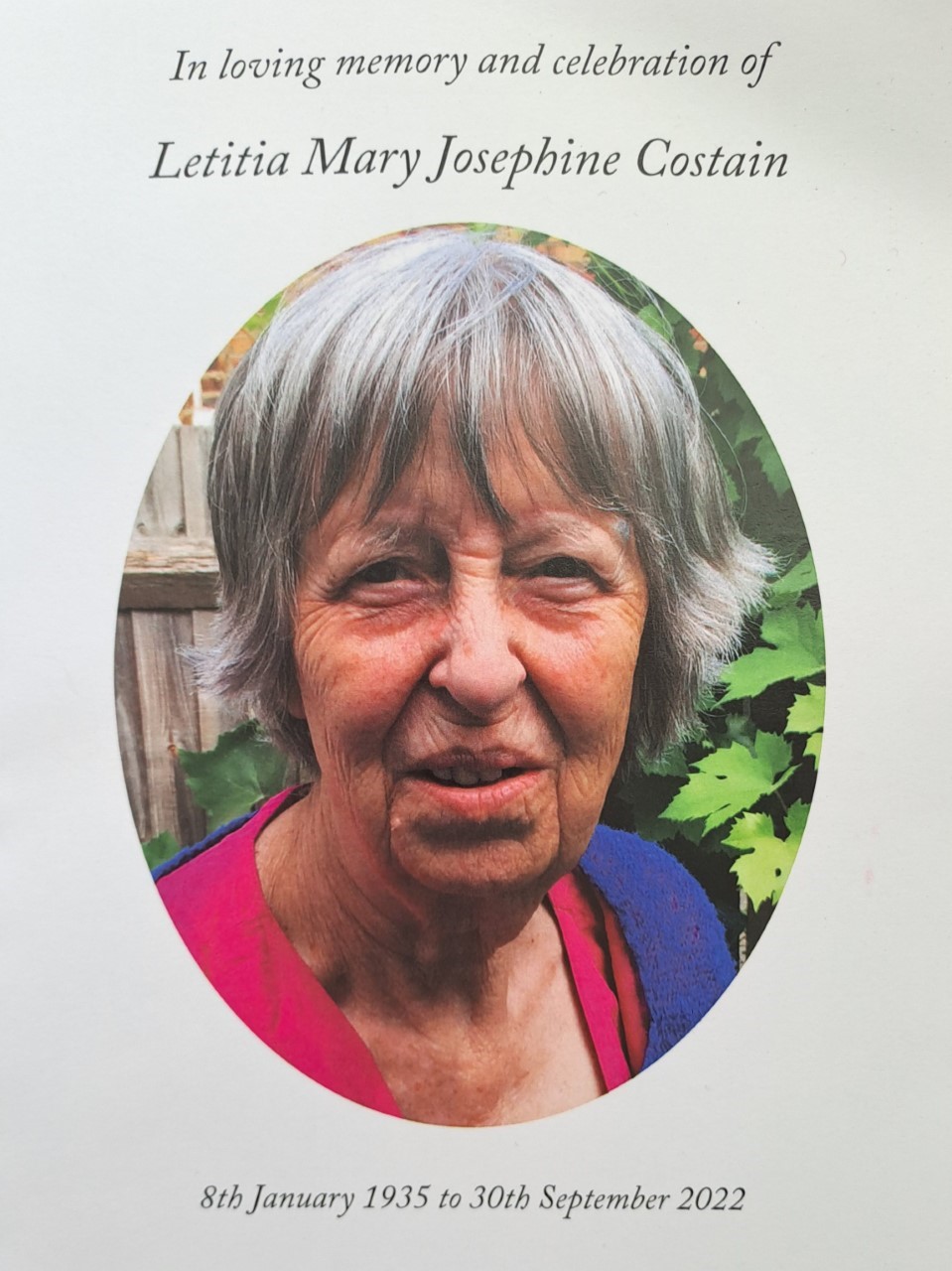 Letitia Costain is remembered amongst our community with great warmth and fondness. For those who didn't know her, we all owe her a great debt of gratitude. She was the teacher of the first kindergarten at St Paul's, upon which our school was built.
She ran the Mulberry Bush kindergarten and parent and toddler groups at the Union Chapel, Islington, until Summer 1996, when they moved to St Paul's. The building was derelict and the parent and child group was held in the garden, once the broken glass had been swept away to make it safe! That September the Mulberry Bush children started in their new classroom - the first reclaimed space in the derelict building - in the now Rosebush kindergarten room. Two years later the children from that kindergarten were the first Class 1 at St Paul's.
In later years she ran parent and child groups at the Christian Community in Belsize Park, then at Steiner House in Baker Street, and was a guiding member of a weekly Anthroposophical study group at St Paul's. She would often attend St Paul's events, particularly enjoying Class 8 plays and the kindergarten Whitsun festival.
We extend our sympathy to Letitia's family and friends at this sad time.
Thank you, Letitia, for your love, warmth, wisdom, support, wicked sense of humour, and pioneering spirit.
Your legacy lives on each day at St Paul's.
Rest in peace.
Class III have started their Shelter Main Lesson, exploring various traditional shelters and learning about the people who lived in them. They have heard about caves and the earliest of hunter gatherers, the Native American tipis, and the Inuits and igloos thus far...
Class VI, along with the rest of Middle School, presented their individual research on Black historical figures this week.
Learning a language is so much more than grammatical rules: Monsieur Azarian aims at consistently elevating the living aspect of French throughout the school as well as the discovery of cultural contexts that underpin languages.
The children of St Paul's have been exploring more cultural aspects of the French language in recent weeks with a focus on French art. You will find some of their incredible work exhibited in the project space from Monday onwards. But the Steiner curriculum is so rich, many other languages are intertwined with different blocks throughout the years such as Ancient Greek, Latin, Spanish, British Sign Language or Hebrew.
Here is a picture of Class I in British Sign Language lessons with Fahima which they really enjoy!
'As tired eyes close,
with sacred summer memories sweet in our hearts,
We transcend with the powerful winds in purple skies.
Willowy trees whisper secrets, dripping in autumn colour,
as we dance at last alone together.
Alone with our hearts intwined,
our souls grounded in the divine,
and our hopes free to be at one with the seasons.
Dear Autumn welcome back into the depth of my gratitude,
together at last.'
Autumn poetry by Hope Von Joel, Handwork teacher
Some pictures of the Gambian Drumming workshop led by Mbilla Arts.
Instagram @stpaulssteinerschool
School Website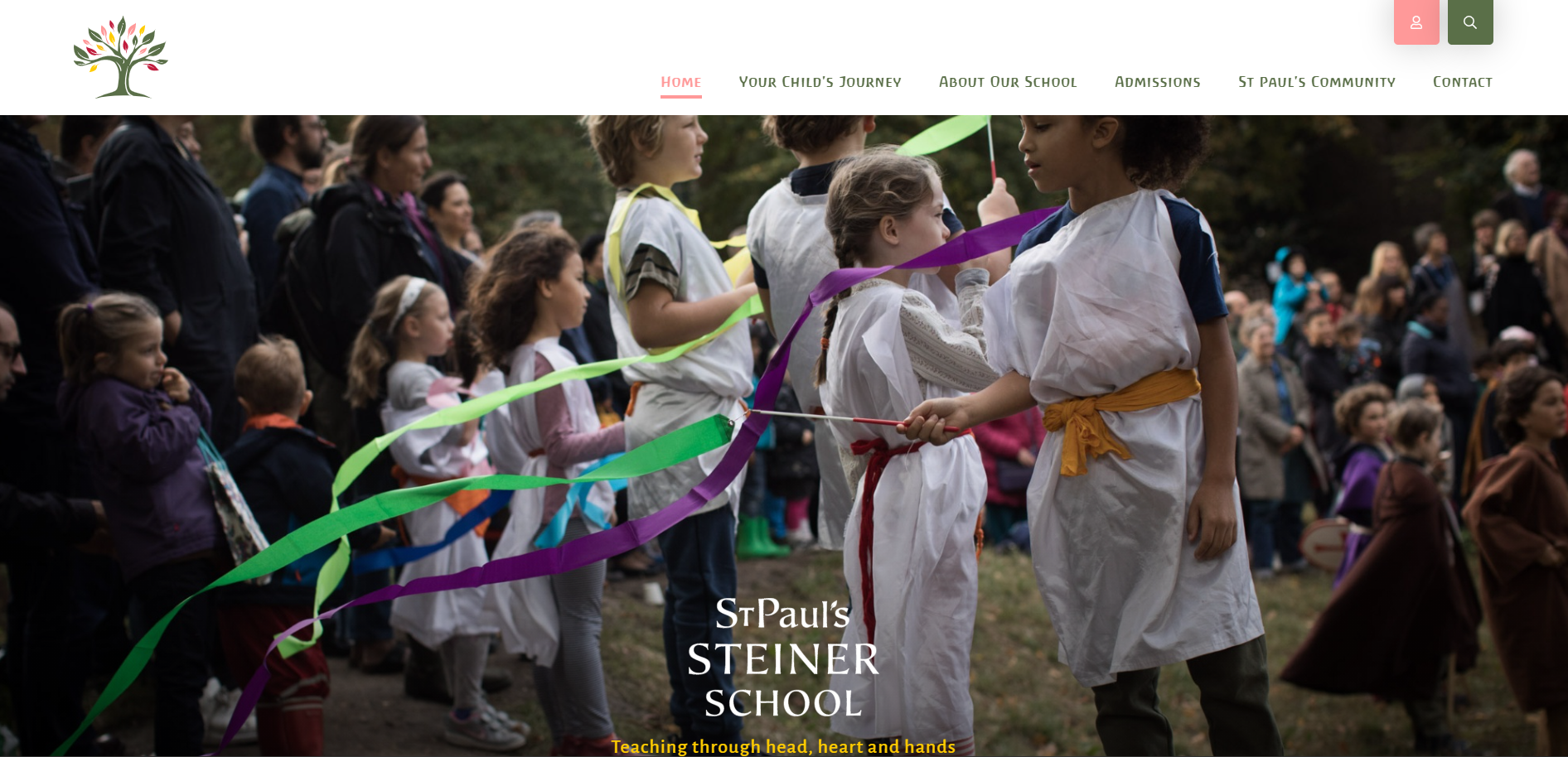 Constanza Chorus
Constanza Chorus is the big choir both Ms Cook, Class IV teacher and Mr Reeves, Class VII teacher sing in, and its annual Christmas Concert is always a lot of fun.
A link for tickets is here:
https://www.eventbrite.co.uk/e/a-constanza-christmas-tickets-444212711177
Doors open 19:00
A glorious evening of music and joy. Conducted by Joanna Tomlinson and accompanied by Gavin Roberts. Your chance to hear your favourite Christmas classics, discover a few hidden gems and join in with our audience sing-alongs.
Festive fun for all your friends and family.
Adults: £15 +booking fee, Under 16s: £5 + booking fee, Babe in arms: Free
Here are two more Choir concerts that Ms Cook will be performing in!
Nine Lessons and Carols
The story of the birth of Jesus told in nine short Bible readings interspersed with Christmas carols, hymns and choir anthems.
Nine Lessons and Carols
led by Andrew Campling
Nine Lessons and Carols, also known as the Festival of Nine Lessons and Carols and Service of Nine Lessons and Carols, is a service of Christian worship traditionally celebrated on or near Christmas Eve.
The story of the fall of humanity, the promise of the Messiah, and the birth of Jesus is told in nine short Bible readings or lessons from Genesis, the prophetic books and the Gospels, interspersed with the singing of Christmas carols, hymns and choir anthems.
Time & Location
18 Dec, 18:00 – 19:00
St Dunstan and All Saints Church, Stepney High St, London E1 0NR, UK
See the website of St Dunstan and All Saints Church for more details.
Time & Location
26 Nov, 19:00
St George's Bloomsbury, London WC1A 2SA, UK
About the Event
led by Andrew Campling and Christian Spielmann
Join Thames Chamber Choir this autumn as they celebrate the influences and legacy of the great Ralph Vaughan Williams in the year of the 150th anniversary of his birth in the beautiful surroundings of St George's Bloomsbury, one of the finest Hawksmoor churches in London.
Tickets £15 (£12 concession, £9 students) online and on the door subject to availability
https://www.ticketsource.co.uk/thames-chamber-choir/t-vvvolyj
Family Photography Mini Sessions
30 minute session / includes 30 edited images
Immediate family members + close animals, of course!
Your home or favourite London park
£300
Limited sessions available in time for Christmas
email me: una.knox@gmail.com
The Space Between is a Mindfulness event that will include Guided meditation, a still life drawing session, a yoga session and a plant-based meal. It should be a really restorative Sunday afternoon.
The workshop/retreat is usually £110, but I am offering a limited 4 spaces on on donation basis, so that it's more inclusive and we can offer this to more people in the community.
The code is STEINER and the donation needs to be entered as a Custom Tip.
Please see poster below and here is a link to the event details
Dear prospective parent,
My name is Rachael Haynes. I am a parent of a Class V child at St Paul's Steiner School. I am a child and adolescent psychotherapeutic counsellor. I am currently undertaking a pre-clinical training in human development leading to doctoral study in the same subject area. I am looking for a family who are soon to have a baby or who have just had a baby who would be willing and able to allow me to sit quietly in their home for an hour. This would be at the same time and day each week and would continue for up to two years. This would be with the aim of observing the developing child in the context of a family. Please feel free to pass this request on to anyone you know who may be interested.
07903950652
rachael.haynes@place2be.org.uk
Great holiday gift idea
Louis' Farm is a new Waldorf-inspired magazine packed with stories, pictures, games and activities. Your children will laugh at Little Gnome's high jinks and delight in the continuing adventures of Louis and Sarah, two children growing up on a farm in southern France. They will also learn about plants and animals as they live through the seasons. A year's subscription (four issues) costs $50 (about ₤44).
Our Friends at North London Steiner School. In addition to the food and activities listed there's a silent auction (which is linked by the QR code on the poster), and raffle too. As well as the general stalls the parents there do a wonderful craft stall which is lovely for homemade gifts. Please support their Fair!
From our friends at New School Canterbury. It is a lovely day trip out into the beautiful Kent countryside.
The Playful Family
Saturday 12 November 9.30am - 11am
with Kevin Davidson
Families are invited to a series of classic playful activities including word games, drawing games, hand games and more. Inspired by Michael Rosen's Book of Play. Kevin Davidson will bring this book to life and nourish your family connections through play.
£10 per adult (min 1 per family), £5 per child (under 16)
https://marylebonetheatre.ticketsolve.com/
Kevin was big hit for St Paul's children during Lockdown, so this comes highly recommended!
Bothmer Movement (for adults) with Kevin Davidson
12 November 11.30am – 1pm
Big Fish: "Isn't the water lovely today?" Little Fish: "What's water?"
Bothmer Movement provides a framework of exercises and games to help bring awareness of the different qualities of the space around us. This awareness, growing through a subtle process of self-development, can lead to observable differences in the way we move and bring about practical benefits in the way we live.
£15 full / £10 concession https://marylebonetheatre.ticketsolve.com/shows/1173632063
Kevin Davidson brings the spirit of Bothmer through creative and playful workshops drawing on his 10 years as a games and movement teacher in schools. He has represented Bothmer Movement International (www.bothmer-movement.eu) since 2016 as part of Steiner Waldorf teacher training programs and in parental education classes. He holds two Master's degrees in Education and Psychology, is a lecturer at Goldsmiths College, London, and an award-winning artist.
https://rsh.anth.org.uk/whats-on/
Rudolf Steiner Bookshop | Anthroposophical Association Ltd | 35 Park Road | London NW1 6XT | Tel: 020 7724 7699
Biodynamic Market Stall
Saturday 12 November 11am - 2pm
The biodynamic stall has been joined by Noel, a nutrionist with great knowledge of the light root (dioscorea batatas) who has been helping Kenny bring the most amazing produce from Laines Farm in Cuckfield, Tablehurst Farm, Michael Hall's garden. Availability is seasonal including leeks, jerusalem artichokes, carrots, black and white radish, cavolo nero, kale, golden and purple beetroot, chioggia, kohlrabi, parsnips, red cabbage and apples.
We also have haloumi, cheddars and the 'best yoghurt I have tasted' from Plaw Hatch; eggs and wonderful apple purees, juices, syrups, cordials, fermented fennel and sauerkraut from Brambletye; from Shire Farm. We have their delicious apple juice and highly nutritional aronia berry juice as well as rye and spelt flour. Also bread is available from an experienced artisan baker called Gail.
For further information, please contact Kenny Coffey
E: belikeabird@gmail.com
M: 07957 799 336
Run by Parent and Child assistant and ex parent of St Paul's, Kenny!
Thank you to everyone involved in the Ceilidh.
We had a beautiful, fun evening of dancing and fundraising!
Our next Newsletter will be published on Friday 25th November. Please get in touch with Maisie at mke@stpaulssteinerschool.org if you wish to contribute.