Issue 9
Wednesday 13th July 2022
After another school year at St Paul's we are filled with gratitude for the amazing school we have. Everyone is playing their part to make it work and everyone is welcome. This summer term we have been immersed in culture with all the Class plays, French Moliere Play, Whitsun and May festival, Windrush and St John's, various talks and lectures for parents, and the Class VIII Photography Exhibition which is a wonderful new tradition. Every year, Mrs. Akuwudike inspires Class VIII students to create characters together and produce a Shakespeare play that challenges and lifts our spirits. This is the culmination of the class plays that are produced every year. Mrs. Skinner, the Classes, and pianist Miss Minou treated us to a stunning Eurythmy Festival sharing the progression from class I to VIII. We are so grateful that we have Eurythmy once again in Kindergarten.
The Classes have been on trips out in the countryside, connecting with nature and physically challenging themselves, linking with the curriculum of the year. Ms Wickramaratne, Miss Janas-Snell and Ms Miller stayed local with their young Classes, heading out to Clissold Park. Ms Cook took Class III to Plaw Hatch Farm while Ms Freeman and Ms Brew took Class IV on the 'Clay to Pot trip' with Bernard Graves. Ms Tate and Mrs Russell supported Class V from St Paul's and other Steiner Schools at the Olympics. Mr Reeves took his Class to the Jurassic coast. He also joined Class VIII on the River Wye trip as well as to Edinburgh with Ms Mellor. Mrs Steggall also joined before taking her own Class to Snowdonia. A huge thank you to the Class teachers for their day-to-day work as well as the extraordinary work they do with their classes.
This year our Senco Mrs McCormick, was joined by Mr Henshall and Miss Chandler to increase the Learning support across the school with the help of Mrs Akuwudike, Ms Brew and Ms Janas-Snell. We are seeing how celebrating neurodiversity is benefiting the children. They can now be open about their needs and with the right support can see them as their superpowers.
Our wonderful Subject teachers bring the fill the curriculum to the with all their skill and passion: Thank you to Ms Van Halle for introducing British Sign Language to the Lower School, it has been a joy to see the children communicating non-verbally and becoming well-versed in deaf culture. We have more French, and we will continue to see this language grow with Mr Azarian. We introduced more specialist Science teaching and a whole year of Class VIII Photography this year with Mr Tsogkas. Miss Pintos has harnessed the singing and musical talents of the Classes and we were lucky enough to enjoy these at the Festivals and School Concert organised by parents.
As the interest in sustainability and biodiversity is growing, our pupils are so lucky to have Gardening for Sun-children with Mita and for Classes III-VI with Ms Featherstone. Every day the School garden and the Green are tidied, swept, watered, and cared for. They are rewarded by building a fire and making tea, sometimes even elderflower cordial and marmalade.
Our craft programme is fantastic. The children have the opportunity to work with Bernard Graves in Class IV, transforming 'clay to pot' and blacksmithing in Class VI. We are grateful for his long-standing contribution to the school. Throughout the year Class IV-Class VIII have enjoyed cutting, carving, sawing, and sanding with Mr Hammond in the Woodwork shed and some of the work is displayed in the project space. Ms Garland has brought River (our therapy/handwork dog) this year, which is a delight for the children and staff.
We must also say goodbye and thank you to Ms Gebauer and Mrs Russell. Ms Gebauer has taught the children handwork with Miss Garland over the years from knitting in Class I to making their own play costumes in Class VIII. Mrs Russell has taught Games to Classes III to VIII and taken numerous Class Vs to the Olympics. She has inspired many games on the Green of four square, rounders and dodgeball, as well as kayaking, sailing and rowing with Classes VI-VIII. Though sad to see them go, we wish them luck in their endeavours in the future.
The Kindergartens are as always beautifully held by Elena and Nicoletta, Julia and Sevim, Sarah and Very, Stephanie and Eriko, including our lunch club staff Maria and Mita. Thank you to Lee for cooking the wholesome delicious food!
Parent and child, held by Mariella and supported by Kenny and Nicoletta, is a place of wonder. Thank you for creating such a warm and caring space, often introducing families to Steiner-Waldorf education.
We all know how important finances are for the school. They work tirelessly throughout the year and provide the necessary structure; thank you to Ashad and Oleg. We are grateful that we have made a small profit again and we are proud to use 10% of our fee income for financial support as well as offering 3 free places in the Middle School.
Tamara once again organised the Windrush Festival with a group of parents, celebrating the Caribbean community in addition to her admin work. A huge thank you for bringing this festival of joy! Pam is our rock-the calm current that runs through St Paul's. We have welcomed Maisie to help us with admissions and communications. As such, she will pass the St Paul's Community Group baton on to a team of parents headed by Tomomi. Thank you for chairing the SPCG this year, and for the numerous parents who support the school. The SPCG has organised some wonderful events, raising money for the library, woodwork tools, camping tents, and Ukraine. It has been so strengthening for us to be able to convene together once again and celebrate, showing that our community is resilient and thrives on working together.
At the beginning of the holidays, we had several parents coming in during the workdays. It is a real contribution to the upkeep of our physical home, enabling our building work to progress further. As the summer commences, the building is transformed into a flurry of activities, repairs and transformations. With Alexandra at the helm, it is moving fast.
The building and landscape will always need looking after, and Clive is committed to furthering this work for the school. It has been a year of looking at possibilities and requirements, working with Erect Architecture to plan forward and engaging with Roger Mears Architects for a conservation management plan.
As ever we wish to thank Belle, Ben, Daniel, Jayne, Matt, Max, Neil, and the Trustees for their diligence and continued effort behind the scenes.
Most of all:
It is the children of St Paul's that are the reason for everything we do. After 3 years in Kindergarten and 8 years at St Paul's, we say goodbye to Class VIII, wishing all the best to our leaver's and their families. We are so proud of Django, Lennox, Chloe, Delilah, Isaac, Levi, Audrey, Lara, Eliza, Jona, Leo, Mikas, Ziporah and Phoebe who are ready to embark on their new journey. Miss Mellor will start her own journey and we all send her our love and best wishes.
After such a busy and exciting year, we all look forward to a well-deserved rest, ready to start anew and afresh in the Autumn.
Have a wonderful summer everyone!
We are at the end of another Kindergarten year and are ready to say goodbye to our sun children as they leave us and make their way to class one in September. The goodbye process happens throughout the summer term as we spend each Tuesday afternoon together in our 'sunshine groups,' sharing lunch, games, stories and the sun children's special craft projects. Talk of class one begins, wondering how birthdays might be celebrated there, what they might take in their lunchboxes, if they will do a play like the amazing class one play we went to see last week? How delighted the children were to see their old friends performing!
Now projects are finished, painting and drawing folders have been made and we look forward to a special ceremony on the last day. At ringtime we sing a goodbye song to the sun children and honour what they bring to the kindergarten; their beautiful drawings, their kind care of the younger children, their wonderful play, their singing, their amazing skipping skills, baking skills, craft skills, their help in washing up, taking the register, tidying and the many, many ways that they set the example for the younger children. How the moons and stars will miss their big friends! But they too are growing and after the long summer holidays the moons will become suns and the stars will become moons, and they will all have their very own new stars to guide and care for.
The sun children have all spent time with their class one teacher who visited for a week, meeting the children in their kindergartens and accompanying us to the Sunshine picnic in the Shruberry along with future fellow classmates, some from the North London Rudolf Steiner School.
Wishing all our sun children the very best in class one, and warm and sunny summer holidays to all our Kindergarten and Parent and Child families,
Sarah, Very, Stephanie, Eriko, Julia, Sevim, Elena, Nicoletta, Mita, Maria and Mariela
The Early Years Team
Class I have been using their skin tone crayons to draw pictures of the May Festival to reflect their Class. We have been reading a South African story, Nanabolele. The children have been learning their Maths processes and timetables. We have been looking at different days that are important for cultures within the Class, such as the Japanese Celebration day for Girls. It is all relevant and lived experience. Within the group.
This term we were treated to Class I performing The Sandman and the Night Monster. Miss Wickramaratne wrote the play adapting it from a Waldorf story. Miss Pintos and Miss Milller assisted with the music. The children contributed with their own gestures and artwork by rubbing leaves for the backdrop.
Deciding on the choreography, the emotions in their lines and their costumes, the children put together a delightful play about a lonely Night "Monster" looking for solace and friendship.
Paired with beautifully sung lullabies, the class were triumphant in their first class play.
Ms Wickramaratne
Class Two have heard many fables over this year and have spent the last few weeks writing their own, thinking carefully about the characteristics of the animals they have chosen and carefully crafting a story about them, and finally illustrating them. Here are a few to enjoy!
Ms Miller
The much anticipated and long-awaited camping trip finally arrived at the beginning of May when Class 3 packed up their waterproofs, wellies and sleeping bags and clambered onto the bus to Plaw Hatch Farm.
The one-and-a-half-hour journey to the farm was frequently punctured with "are we there yet? how much longer?" as anticipation grew.
The camping field below the main farm had everything we needed. Two big bell tents for the children, a fire with log seats around it, two hand-dug loos, and a sheltered barn for our cooking team. The children had free range of the field, which was next to a large, healthy lot of happy chickens.
Falling asleep on the first night was a challenge for the children, and it was a challenge for the adults when they all woke up at 4:45am the next morning, like little birds, only much louder!
The class revelled and took much joy in all that they were able to experience on the farm. Each morning, a small group went to watch (and one group were able to milk themselves) - the milking of the cows. This was such a quiet time of day, and of great interest to the children, especially seeing the care the farmers take, and the different steps to milking.
Breakfast would then be prepared on their return, and eaten around the fire. Each small group also took turns feeding the chickens, collecting their eggs, feeding the pigs, and watching them tuck into their whey - for nothing is wasted! The class saw some very young piglets and were able to stroke and play with the older piglets.
Mid week, we had a special visitor come and take us on a night-walk - to listen out for birds and to use all of our senses to experience dusk in the Ashdown Forest. This was a particularly special event, which has remained for many of the children a highlight from the week.
We were so lucky to have such wonderful helpers on our trip, who prepared us delicious food and helped to look after the children in so many big and small ways. I could not have done it without them, thank you all so much!
I hope you enjoy a small selection of photos from the trip as well as a few of the children's book work reflecting on their time there.
Ms Cook
Class IV Clay to Pot Workshop
Class IV Clay to Pot Workshop
Last week Class IV packed up their pre-made clay pots and models and travelled to Tokes Farm, Dorset for a four-day workshop with Bernard Graves.
Lily, the farm manager, welcomed us all with open arms. Tokes Farm is a wonderful educational farm close to the town of Shaftesbury. The pupils were delighted to meet the animals (cows, pigs, sheep and two baby goats!).
The workshop started just after our arrival. The pupils made the slip for the paper slip kiln. What better fun than getting clay in between your toes! Once this was made a foundation, bricklayer was constructed.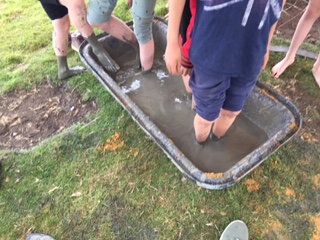 ​
Making Slip
On the second morning wood was cut into small pieces and created the fuel and the platform for the pots and models to stand on inside the kiln.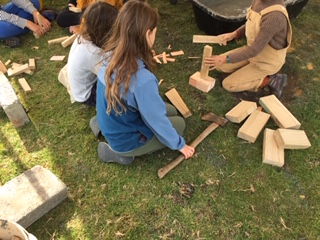 ​
Chopping Wood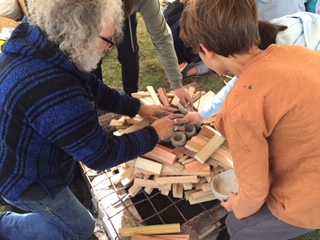 ​
Building up the kiln
Once a nice roundish pyramid was built incorporating our clay work, it was time to dip large pieces of thick paper in the slip and build the outside of the kiln.
​
Once 13 layers had been applied it was time to light the kiln using a bow (no matches!), to create friction ad hence fire.
​
Making Fire
Lastly, the chimney was placed on the top of the kiln and the pots were left overnight to bake.
​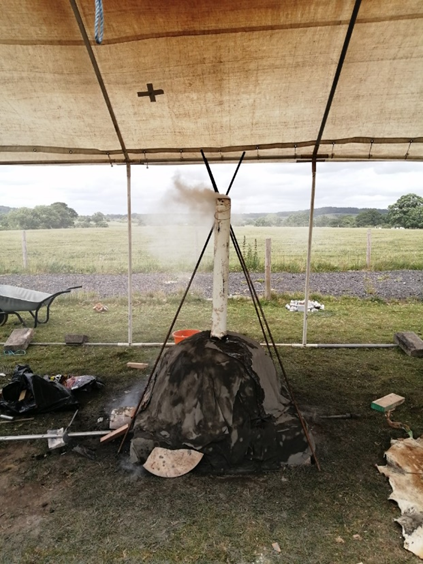 Baking the Pots
On the third morning we glazed our pots and models and placed them in a furnace to dry and hey presto, lots of lovely pots and models!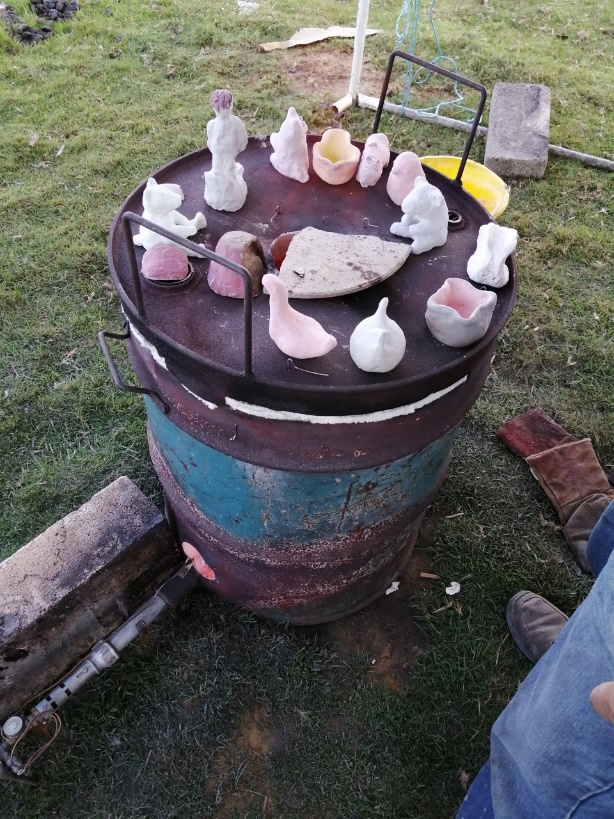 ​
Glazing and firing
Ms Freeman
The Greek Olympics. Truth - Beauty - Strength
Last week saw Class V descend on Michael Hall Steiner School in Forest Row for the Greek Olympics.
The Class 5 curriculum studies Ancient Greece and the Olympic event celebrates this particular time of childhood. Around the age of 11, children have the perfect balance of levity and gravity in their movement; the lightness of the young child and the beginnings of the strength and weight of adolescence. This relates directly to the philosophy of the Greek athlete who strove to strike a balance between the spiritual path (lightness) and physical attainment (weight).
The Class made their togas in Handwork with Miss Gebaur and beautifully embroidered them with their own designs.
Around 300 athletes from 20 Waldorf schools across the UK (and this year, one from Cyprus) took part in the three-day event.
It began with setting up camp on Wednesday afternoon; pitching tents, establishing the kitchen, digging latrines and making benches for around the camp fire. The children made light work of it all with close collaboration and getting the jobs done. Ably and lovingly looked after by parents Amanda, Guilhem and Rachael, we were all sitting around the fire for dinner that evening.
Event day dawns on Saturday. The sun is shining, the sky is blue, the children put on the white Greek tunics, made during their handwork lessons. The opening ceremony begins at 7.45am and the Olympic cauldron is lit. The marathon follows, and it is quite a sight to see the children set off together with the flame burning in the distance. All events; marathon, mini marathon, dash, high jump, long jump, wrestling, discus, javelin and relay take place, culminating in a medal ceremony after lunch.
Every child receives a medal for the qualities they demonstrate throughout the Olympics rather than just those who run the fastest, jump the highest or throw the furthest. Strength, determination, speed and grace are among the many attributes recognised and celebrated, ensuring every athlete is rewarded for their efforts and accomplishments. We would like to congratulate all our children on their athletic endeavour and generous spirit. We would also like to award a well-earned medal to the Class V teacher, Miss Tate for quite simply being Miss Tate. Enough said.
Mrs Russell - Games Teacher
Class VI have been busy in the Woodwork shed with Mr Hammond. They have been making pull along toys, sawing, carving, sanding, gluing every part carefully so that it glides along the surface.
Back in October, Class VII travelled to Cop26 in Glasgow to visit St Paul's parents Marco and Claudia's EcoLogical Studio AirBubble, a children's play pavilion that uses algae in solar-powered bioreactors to remove carbon dioxide and pollutants from the air. This trip enhanced their classroom science curriculum and enabled them to experience this important international event firsthand.
Class VII have recently been to Plas-Y- brenin in Snowdonia.
They had a fantastic week learning outdoor skills, orienteering, climbing, hiking to the summit of Snowdon, canoeing and telly bonding as a class.
It was an important trip for them as teenagers to give them the confidence to feel strong and resilient by pushing and challenging themselves.
Each year Class VIII put on a full production of a Shakespeare play. The students study the text in the Autumn Term and get to know the themes, plot and characters really well. In the Summer Term the Nave is transformed into a theatre. Many teachers and parents become involved to support, and it becomes a marvellous Community endeavour. Not only do the students engage in acting but also costume making, prop gathering, set building, singing, dancing, stage combat, publicity and stage management. It is their first step into work experience. They must work collaboratively and bring out their individual organisational skills. It is always a privilege to watch close at hand how individuals transform during this process. This year Class 8 performed Romeo and Juliet with such heart and dedication and all who came to see it were given an exceptionally rich experience by the beautiful young people of Class 8. They collected a donation from each of the tickets and the money will go to UNICEF, supporting the themes of Youth and Love from the play.
Ms Akawadeke
All children of St Paul's undertook the colossal, at times intimidating, and incredibly invigorating project of performing a rendition of Le Misanthrope, one of the most celebrated plays by playwright Molière. The play was set in the XVII century and showcases the lives of aristocratic society members in Paris and their battle with the significance of honestly as a core human value. The children engaged with the text and its themes in order to fully grasp the essence of this aspect of French culture and history, and put in an incredible amount of work and effort into this performance. This project allowed them to improve their phonetics skills, their listening and speaking skills, their memory and acting skills, and widened their vocabulary though this was not the focus. It also helped to extinguish one of the main challenges of language learning by forcing them to speak loudly, clearly and comfortably in front of each other. It is the first of hopefully many other French plays performed at St Paul's that will depict diverse facets of French heritage.
Here are some pictures of Class VI French work books.
Mr Azarian
It was very touching to see Father and Son, Guilhem and Emil playing together and Class V's banana song, written and performed by Giacommo, the only brave singer! Thank you to Tomomi and Adriana for organising and Rio for accompanying so many performers. We heard from brass, cello, violin, recorders, electric guitar, and the harp. The younger children were inspired by the older children and it was a joy to see every age supportive of one another.
Since the beginning of the academic year, Class VIII has been studying and practising Fine Art Photography. We looked at light and how it makes us feel, made pinhole cameras and explored how light travels. The students were keen to learn about some history of photography while looking at the work of important 20th century photographers. In practice the students explored light and its effects when this is harnessed in prints such as cyanotypes. They were keen to learn the physics of light as well as the eye physiology through the construction of pinhole cameras. We also studied photographic composition, landscape and portraiture which lead into a series of portraits taken with a large format camera. The students took photos of each-other on direct positive paper and developed it in the dark room. It was incredible to see how confident some students were on using the camera, loading dark slides and preparing all the chemicals in the dark room.
These culminated in an Exhibition of their Photography in the Hall.
Mr Tsogkas
Miss Gebauer and Miss Garland have put a lovely display of the Handwork that Classes are making up in the Project Space. There is crochet from Class II and III and cross stitch from Class IV. Miss Garland has been bringing her dog River into School as a companion dog to help children feel relaxed and more settled!
This was such a treat. Class III drew some lovely responses to the Eurythmy Festival and this glowing review from an audience member was particularly touching.
"Having been introduced to the art of Eurythmy when my children first started at Wynstones Steiner School Gloucestershire in 1972, I attended a class for adults at that time and came out with a different, enhanced, consciousness. It was with a "great expectation" that I accepted the invitation to the Eurythmy festival at St. Paul's. However nothing could have prepared me for the outstanding performance of all the classes.
"From the start of the festival the children engaged in the Eurythmy with enthusiasm and skill. Congratulations are due to all the children for their presentations in both music and speech Eurythmy pieces as well as the composition of the fairytale, the costumes, for the hard work and determination of the children who wrote and devised the final piece. "
"Dr. Andriana Minou's musicianship and skill was clear in the variety of music provided throughout the afternoon- there was something for all tastes.
Last but not least praise must go to the skills of their teacher Diana Skinner who, apart from ironing costumes, gave up her time to hold the club at lunchtime to encourage students who had requested such a class.
Both teachers and children demonstrated a deep commitment to Eurythmy and music, showing the deep love of what they were doing. As a former teacher, part of whose job was to write reports, it was interesting to observe the physical, mental and spiritual engagement of the children across the classes.
In addition to the hard work involved in all the techniques, the children must be congratulated for the preparation of the costumes, particularly the person who dyed some of the tunics...there was delight at the beautiful festival when leaving."

Thank you Miss Minou and Mrs Skinner!
At St Paul's we strive to create an inclusive environment and celebrate the diversity within our community. The SPCG's fundraising has enabled us to update our library this year and part of this work has been to ensure we have age appropriate books from kindergarten to the middle school that represent people of the LGBTQIA+ community, their families, history and achievements.
We chose 28 June to raise our Pride Progress flag outside school, the anniversary of the Stonewall riots. The middle school students visited Queer Britain in Kings Cross to learn more about queer history and culture, and Class Five set off for the Olympics, sporting rainbow laces.
A letter from a Grandparent who has brought several Grandchildren over the years to Parent and Child, beautifully captures the delight and importance of the Group...
"In 2014, we took our first grandchild on Monday mornings, alternating each week. We were attracted to the Steiner ethos, being outside in nature and then inside in a creative, supportive and cosy environment.
The atmosphere was truly child-centred. The pattern of the morning and the calm of the experience were hypnotic. The peace and quiet of little children playing, watching, testing out, sitting in a circle for mini break (desperate for those raisins), and then 'sitting at the table' and wiping and passing and sharing, and the stories and songs, and hiding under beautiful silk scarves were all just so wonderful. And of course the delicious mouth-watering aroma of little wholewheat rolls baking.
The parents/grandparents/carers were also given special treatment with sewing and 'making' to distract them from focussing too much on their charges and letting them explore for themselves. So gentle and so clever.
We have continued to bring a further four grandchildren over the last nine years, with one more to come (!). Two other grandchildren live in Sydney, so they have sadly missed out on this very special experience. All that have been to the playgroup remember it and have a special memory – how they were welcomed and treated with such love and respect.
We are, and have been, very lucky"
Mariella
Instagram @stpaulssteinerschool.org
Tropical clothing for kids
Ola,
It's finally the holidays! Alma Brasil is an online store with tropical clothing for kids.
If you are looking for new, colourful clothes for the summer, please visit: www.almabrasil.com
You can also follow us on Instagram: @almabrasil_official / www.instagram.com/almabrasil_official/
As thanks for people's interest and support following our note in last month's newsletter, we are pleased to offer the school community a 20% discount between now and 31 July. Please use the following code at checkout:
SCHOOL20
We wish you a great holidays!
Obrigada,
Talitha
St Paul's kindergarten mum
Wolfie Wright gardens.

Wolfie wright gardens, based in London and Sussex, believes in a low impact, ecologically diverse and holistic approach to the garden. Gardening with sensitivity, and with an emphasis on creating a balance between "wild" and cultivated spaces, all within the structure of horticultural traditions and principles of aesthetics, health and harmony. We offer everything from general seasonal garden maintenance, professional pruning, meadow care and composting, to design services, planting, plant plans and horticultural advice.
Please feel free to get in touch with any enquiries -

Email : wolfiejwright@gmail.com
Mobile: 07429533308
St Paul's Parents' Choir
This is a fun and inclusive choir for parents at the school. Come and sing, make friends and have a coffee!
Taught by ear, no previous experience needed, all levels and and abilities welcome.
Thursdays during term time from 8.45am at 6 St Paul's Place, N1 2QD. £7.50 per session.
Times: 8.45am. Singing 9-10am, coffee/cake 10-11am if you can stay.
Family Whittling Workshops at Hackney City Farm
London Green Wood is a not-for-profit cooperative and a community of green woodworkers based in Hackney. Our aim is to encourage crafty-ness, creativity and self-reliance in everybody. From our outdoor woodland workshop, using locally felled wood, we bring heritage crafts to the heart of the city and make basic woodcraft skills available to all.
Our courses are a great introduction for families that want to start whittling at home, or around a campfire. Both adults and children will learn how to work safely with knives.
All under 18s must be accompanied by an adult who will supervise and work with them at all times. We recommend that parents/carers join the course so that they can keep their child safe when whittling at home and be confident in their child's abilities to work with knives and wood.
Dates: 5th, 12th, 19th and 26th August.
Times: 11am-12pm for 6-8 years, 1-3pm for 9-18 years.
Cost: £35 for one adult and one child working together.
To book or for more information: www.londongreenwood.com or email whittle@londongreenwood.com
School Website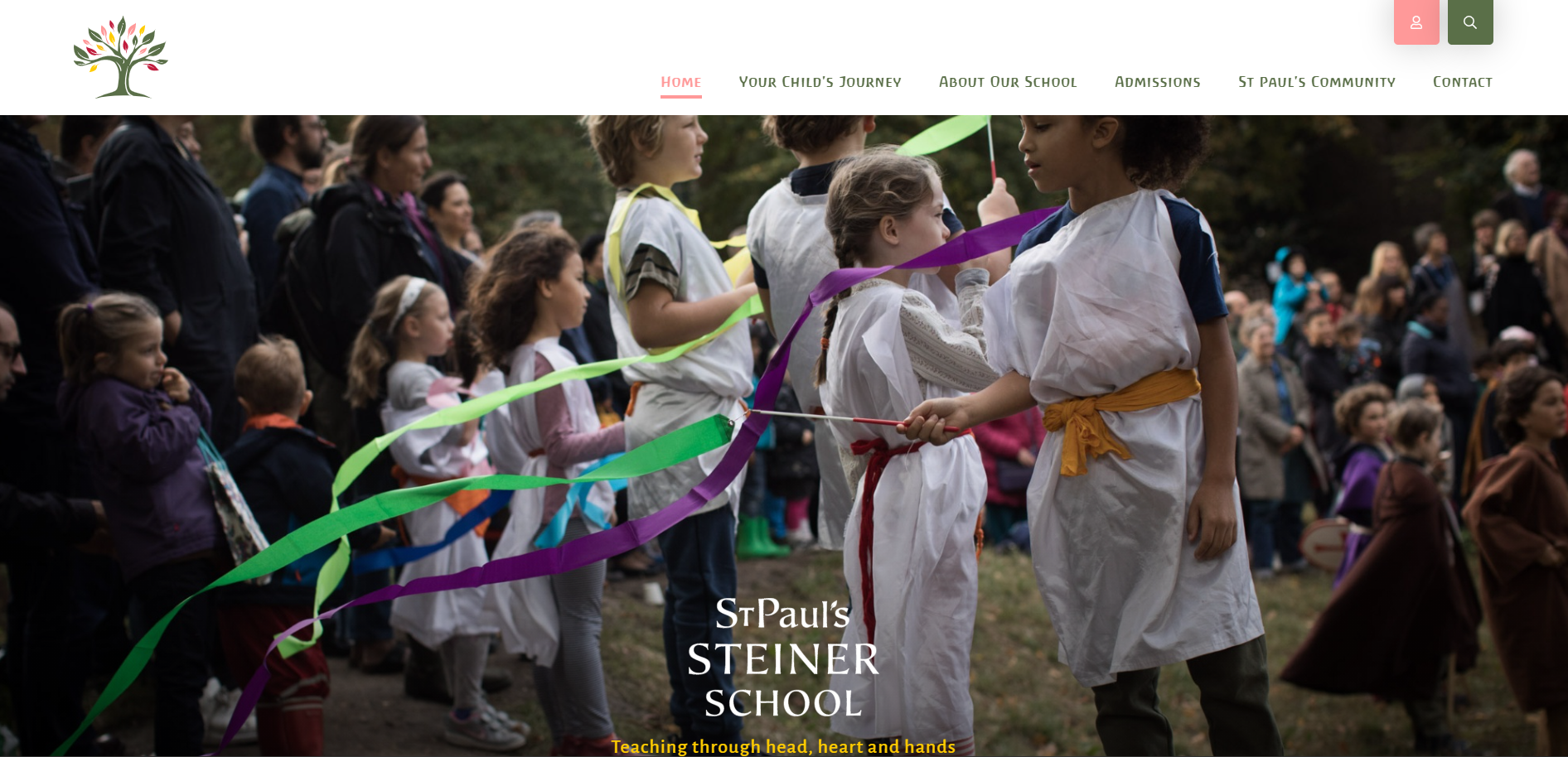 Need ideas for summer?
https://clubhubuk.co.uk/listings/holiday-activities/